World news story
OUP partners with 3 Israeli start-up tech companies
Oxford University Press enters its most extensive collaboration with Israeli tech following help from UK Israel Tech Hub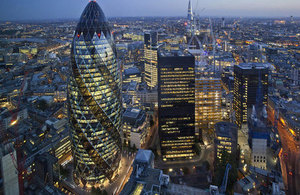 Israeli start-ups partnering with OUP
One of the world's most distinguished publishing houses, UK's Oxford University Press (OUP), is teaming up with 3 Israeli startups in a major boost to its online education services. OUP's most extensive collaboration with Israel so far was made possible with the assistance of the British Embassy's UK Israel Tech Hub.
OUP publishes more than 6,000 titles a year in a variety of formats, with annual sales of more than 110 million units. The publishing industry is undergoing a major disruption in the digital age. Last year, the UK Israel Tech Hub invited OUP to Israel and introduced it to dozens of startups who offer solutions to those challenges. As a result, OUP entered into relationships with three of them. In addition, OUP is exploring other opportunities with Israeli startups that help children in the Arabic-speaking world.
Paul Riley, Director of Channels and Partnerships at OUP said: "OUP is pleased to be connected with such a forward-looking group as the UK Israel Tech Hub. Edtech ventures are increasingly influential as they shape and improve the educational experience. Through this relationship, OUP is introduced to inventive Israeli startups, which provide us with opportunities to combine our high-quality content with ground-breaking technology. This allows us to develop innovative products and services that improve the lives of teachers and learners globally."
The UK Israel Tech Hub is a UK government venture which enables collaboration between British and Israel companies. Dona Haj Manaa, the Hub's Creative Industries Manager, said: "Edtech is a key area of synergy for the UK and Israel. OUP represents the UK's world-leading education and publishing industries, and these new relationships demonstrate how innovative Israeli edtech startups can grow by working with them. Israeli tech executives repeatedly mention the UK as their preferred business destination in Europe."
The three Israeli startups are Tiny Tap, which will digitize some of Oxford University Press' key pedagogical materials, making them available as cross-platform interactive lessons. Tel Aviv-based TinyTap is a free platform for teachers and students to create personalized interactive lessons.
Another agreement was signed with e-book service provider Total Boox. Total Boox provides a unique e-book distribution platform, where all books are always available to all users, readers, or libraries, and are charged only for the portions actively read by each reader. Hundreds of OUP's popular English teaching books and professional materials for language teachers will be available to hundreds of libraries in the United States, and to millions of students and teachers worldwide.
In late December OUP agreed a third collaboration, with KIDOZ – a children's content discovery platform based in Netanya. OUP content will be made available to millions of children via KIDOZ's exclusive content platform.
KIDOZ Co-Founder Eldad Ben Tora said: "OUP is one the world's most respected publishers, and we are honoured to have them on board. OUP produces outstanding content, including interactive books and home learning materials, and we can't wait for young audiences to discover it through the KIDOZ platform."
About OUP
Oxford University Press is a department of the University of Oxford. It furthers the University's objective of excellence in research, scholarship, and education by publishing worldwide. OUP is the world's largest university press with the widest global presence. It publishes thousands of new publications a year, has offices in over fifty countries, and employs over 7,000 people worldwide. It has become familiar to millions through a diverse publishing programme that includes scholarly works in all academic disciplines, bibles, music, school and college textbooks, children's books, materials for teaching English as a foreign language, business books, dictionaries and reference books, and academic journals.
About UK Israel Tech Hub
UK Israel Tech Hub was launched at the British Embassy Israel in 2011 as a pilot programme to drive economic growth in both countries. The Hub's goal is to create win-win partnerships in which British companies gain a global competitive edge via Israeli innovation, and Israeli innovation goes global via the UK. The Hub has contributed to more than 80 UK-Israel tech partnerships, worth tens of millions of pounds. The Hub focuses on sectors with potential for bilateral partnerships, such as e-commerce, fintech, biomed and pharma, mobility, smart cities, creative industries, and Arabic online content.
Further information
UK Israel Tech Hub: Sagi Or, Media Advisor, British Embassy Tel Aviv.
Published 2 February 2016