World news story
Operation Zygos, appeal for UK's most wanted in Cyprus
This was published under the 2010 to 2015 Conservative and Liberal Democrat coalition government
The second Operation Zygos campaign. A hunt for some of the UK"s most-wanted fugitives believed to be hiding in Cyprus.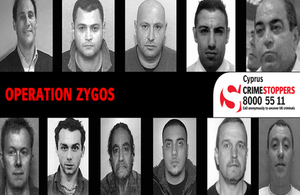 A hunt for some of the UK"s most-wanted fugitives believed to be hiding in Cyprus has begun, led by the UK crime-fighting charity Crimestoppers and the National Crime Agency (NCA).
The second Operation Zygos campaign features six brand new appeals for fugitives, and the five remaining suspected criminals from the first campaign in 2012. All are thought to be evading justice in what is one of the most popular countries for British ex-pats.
Rape, heroin trafficking and the setup of fraudulent travel agencies defrauding an estimated 20,000 people, by luring customers attracted by cut-price holidays, are some of the crimes the featured individuals are wanted for by UK law enforcement agencies.
Other alleged crimes include a horse racing betting scam and various types of advanced fee fraud connected to the breeding of racehorses.
Since the original Operation Zygos appeal, four of the nine featured individuals have been arrested, the first within just 48hours of the campaign when a man wanted for sexual offences against a child was located. Among those caught were Wayne Smith and Julie Skelding who were wanted for causing death by dangerous driving and perverting the course of justice.
This campaign highlights the continuing work between Crimestoppers, the NCA and the Cypriot Police Authorities (CYPOL). Crimestoppers and the NCA also work closely with the British High Commission in Nicosia as well as British and Cypriot law enforcement agencies.
For those people calling from Cyprus there is a dedicated Cypriot number 8000 55 11 which will be answered in the UK by Crimestoppers" call agents. A translation service is available upon request. People can also pass on information anonymously via the UK Crimestoppers number 0800 555 111, online at www.crimestoppers-uk.org or www.crimestoppers.org.cy.
Operation Zygos full press release (PDF, 363KB, 14 pages)
Speech - Mark Hallas, Crimestoppers Trust (PDF, 191KB, 2 pages)
Speech - Steve Bennett, National Crime Agency (PDF, 180KB, 1 page)