Operation Nightingale excavation shortlisted for prestigious archaeological award
A Salisbury Plain archaeological dig has been shortlisted for a prestigious award from Current Archaeology magazine.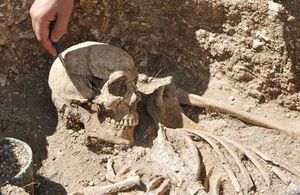 The excavation of an Anglo-Saxon burial ground, at Barrow Clump in Wiltshire, began in 2012 and concluded last year. It was part of Operation Nightingale, a project established jointly by the Defence Infrastructure Organisation and The Rifles, which sees ill and injured service personnel and veterans assisting archaeologists with excavations on the defence estate. Wessex Archaeology also leant their expertise, alongside archaeologists from DIO.
Barrow Clump was originally a Bronze Age burial mound, but in the 6th Century AD Anglo-Saxons borrowed the site to start burying their own dead at the foot of the mound. This Anglo-Saxon history was not known until badgers started causing damage to the site, meaning it was necessary to excavate as quickly as possible before more damage was caused. The 75 graves found by the team held people of all ages, many of which were accompanied by grave goods including spears, a drinking cup and jewellery.
The dig has been nominated in the 'Best Rescue Dig' category, which recognises excavations which are necessary as the site is under threat from either natural or human causes. However, the graves' location on Salisbury Plain Training Area has protected them from further damage which can be caused by modern agricultural methods.
Richard Osgood, Senior Archaeologist at the Defence Infrastructure Organisation, said:
DIO takes the stewardship of its cultural heritage estate very seriously and it is wonderful when the efforts of our main customer, the military, to this end are recognised. The endeavours of the service personnel on this project were truly inspirational and have highlighted the archaeological importance of our training areas.
Voting is online and is open until 8 February 2016. You can vote here: http://www.archaeology.co.uk/vote.
Published 9 December 2015