Operation ELLAMY update - 9 April 2011
Royal Air Force aircraft hit seven main battle tanks on Friday 8 April 2011 as part of the UK's continued support for NATO's Operation UNIFIED PROTECTOR to safeguard the lives of Libyan civilians and enforce UN Security Council Resolution 1973.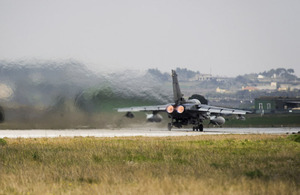 RAF Tornado GR4 aircraft used Brimstone missiles and Paveway IV bombs in the area of Ajdabiya, hitting two tanks, and in the area of Misurata, hitting five tanks.
The weapons were discharged as part of armed air reconnaissance and overwatch patrols conducted over Misurata, Brega and Ajdabiya.
RAF Typhoon aircraft conducted defensive counter air patrols as part of the no-fly zone enforcement. Two RAF VC10 tanker aircraft supported the Tornado, Typhoon and other coalition sorties by providing air-to-air refuelling.
HMS Liverpool has taken over from HMS Cumberland carrying out surveillance and embargo operations alongside HMS Brocklesby. HMS Cumberland will now return to the UK.
Published 9 April 2011