World news story
Operation Doomsday commemorative service in Oslo
This was published under the 2010 to 2015 Conservative and Liberal Democrat coalition government
British Defence Attaché speaks at memorial service in honour of the crew who died during the operation to oversee the German withdrawal.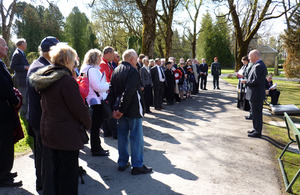 A memorial service was held at the Commonwealth War Graves Plot, Vestre Gravlund on Saturday 11 May in honour of the 24 crew and passengers who died when a Short Sterling Aircraft crashed at Andtjernåsen on 10 May 1945. The graves of the 20 British, 3 Canadians and one Norwegian who died in the crash are among the 102 members of Allied forces buried at Commonwealth War Graves Plot at Vestre Gravlund.
Approximately 40 family members of those who died travelled from the UK and Canada to attend the Service which was organised by the Oslo Branch of the Norwegian Reserve Officers Association. The Anglican Chaplain in Oslo, The Reverend Canon Janet Heil, officiated at the service. Members of HM The King's Guard provided the ceremonial guard and bugler.
The aircraft was flying to Norway as part of Operation Doomsday which was the first phase of the transfer of allied units by air and sea from the UK to Norway to oversee the German withdrawal. Weather conditions in the Oslo area were poor with heavy rain and fog and the Aircraft hit Andtjernåsen, ploughed down the hillside and exploded, killing all 24 on board.
On Sunday 12 May, a Memorial Service was held at the crash-site at Andtjernåsen, Sørkedalen. HE Mr David Sproule, the Canadian Ambassador, and Lieutenant Colonel Matt Skuse RM, the British Defence Attaché, gave speeches before laying wreaths at the Memorial together with Major Egil Jørgen Brekke, representing the Oslo Branch of the Norwegian Reserve Officers Association.