Opening of Sheringham Shoal windfarm
Secretary of State Edward Davey was joined by the Crown Prince of Norway and Norwegian Ministers at the official opening of Sheringham Shoal…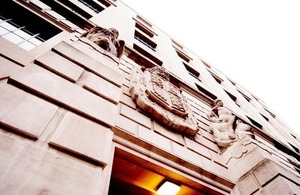 Secretary of State Edward Davey was joined by the Crown Prince of Norway and Norwegian Ministers at the official opening of Sheringham Shoal offshore windfarm today. The farm which contains 80 turbines, each one the size of Nelson's Column in Trafalgar Square, will provide enough clean energy to power 220,000 homes in the Norfolk region and beyond.
Norwegian owners Statkraft and Statoil jointly invested £1 billion in the project which has supported 700 jobs in its construction phase and will provide 50 permanent jobs in the community.
The operating company Scira also set up the Sheringham Shoal community project, a £100 million fund which supports educational and environmental community projects.
The completion of the Sheringham Shoal Offshore Wind Farm means the UK now has more than 2GW of operational offshore wind energy capacity and retains its position as the world leader in installed offshore wind.
UK Secretary of State for Energy and Climate Change, Edward Davey said:
"We need to get the economy moving again and a massive expansion in home grown, clean, renewable energy capacity is central to this.
"Sheringham Shoal will play an important part; supplying power to 200,000 homes, and providing jobs in the local community.
"Today's opening is also an illustration of the strength of the UK's strategic relationship with Norway. Investment in the UK's energy mix needs to come from increasingly new and diverse sources, and this project is an excellent example of that".
Published 27 September 2012