World news story
Open Government Partnership: Supporting Burma's reforms
UK welcomes Burmese government and civil society attendance at London Summit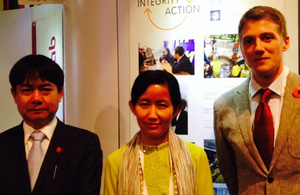 Dr San Lwin, Burma's Deputy Minister of Education, and Daw Nwe Zin Win, Chairperson of the National NGOs Network, joined over 1000 representatives from over 60 countries in attending the Open Government Partnership (OGP) Annual Summit in London London Summit 2013 from 31 October to 1 November.
The Summit was an opportunity for government, civil society and private sector representatives from around the world to share and develop ideas for healthier collaboration between governments and citizens. Speaking at the opening of the Summit the UK's Prime Minister David Cameron PM Speech emphasised the role of the OGP in driving global prosperity, saying:
There is a golden thread of conditions, which allow countries to thrive - the rule of law, the absence of conflict and corruption, and the presence of strong property rights and institutions. An open government should be woven deep into the heart of this thread.
Supporting Burma
As current co-chair the UK is committed to expanding awareness and membership of the OGP, including by supporting the aim of H.E. President Thein Sein's government to join the OGP by 2016 Open Government for a better society. Speaking about Burma's attendance at the London Summit, British Ambassador Andrew Patrick said:
I am delighted that Dr San Lwin and Nwe Zin Win are taking part in the Open Government Partnership summit in London. Open Government is about making sure that people can see what their Government is doing – that things happen in public not in secret. That is particularly important in a country like Burma that is making a transition to democracy.
Further information
Open Government Partnership website
UK support for Burma joining the Open Government Partnership
Published 1 November 2013