Press release
Open Data User Group to help unleash the potential of open data
Today's first meeting of the Open Data User Group (ODUG) has been hailed as an important step in the government's open data revolution.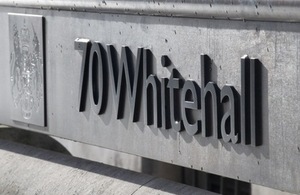 10 July 2012
CAB 063-12
Today's first meeting of the Open Data User Group (ODUG) has been hailed by Francis Maude, Minister for the Cabinet Office, as another important step in the government's open data revolution.
The group will advise the government on what public sector data it believes will have the greatest economic and social benefits for the UK and should therefore be released as open data.
The names of the 13 members of the ODUG - who will meet today in London's Tech City under the chairmanship of Heather Savory, who was appointed in May - have also been revealed. They comprise open data experts drawn from the worlds of business (including a significant SME representation as well as large national companies such as Sainsbury's and Experian), civil society, academia and local government.
There was an overwhelming response to the open recruitment process by which the membership was selected, with over 75 applications received from the broad data-user community.
The Minister for the Cabinet Office, Francis Maude, said: 
To unleash the full potential of data, the raw material of our age, we need to release the government data that will best foster innovation, give rise to new businesses, help others to grow and enhance public services.

The publication of our Open Data White Paper two weeks ago heralded a wave of new data releases, and the fact that the Open Data User Group is getting down to work is another significant advance in our open data revolution. As well as releasing more data, we need to ensure that what we release is of the greatest possible value to citizens and businesses - the Group has a key role to play in this.
Heather Savory, who will report to the government's Data Strategy Board on behalf of ODUG, said:
I am very pleased with the overwhelming response to our request for Open Data User Group members and would like to thank all who put themselves forward. We had many strong applicants and have been able to find a really talented membership who are geared up and enthusiastic about working with and on behalf of their communities to improve access to government data.

The group faces many challenges, but I am confident we have the right people to make a difference, both around the table and in the wider user community. I want to encourage as many people as possible to put forward suggestions and recommendations on opening up government data in both the short and the longer term. It's good that ODUG is now under way.
Notes to editors
1. The members of the Open Data User Group (ODUG) are:
Robert Barr, Chairman, Manchester Geomatics
Jennie Campbell, Managing Director, MeteoGroup Ltd
Mick Cory, Chair, UK Location User Group
Sarah Hitchcock, Head of Network & Planning, Sainsbury's
Dominique Lazanski, Head of Digital Policy, Taxpayers' Alliance
Andrew Mackenzie, Open Mercia, and freelance consultant
Paul Malyon, Product Manager, Experian QAS
Christopher Royles, CTO, Pitney Bowes Software
Gesche Schmidt, Programme Manager, Transparency, Local Government Association
Jacqui Taylor, CEO, Flying Binary
Roger Taylor, Director of Research and Public Affairs, Dr Foster
Jeni Tennison, Director of Jeni Tennison, Consulting Ltd
Adam Tickell, Pro Vice Chancellor, University of Birmingham
2. ODUG chair Heather Savory is a successful executive with a solid commercial track-record and extensive board and senior management experience in entrepreneurial and high-technology businesses, consulting and central government. She has strong expertise in all aspects of high-growth business development and large-scale change environments. Heather is also a member of the Public Sector Transparency Board and of the Regulatory Board of the Royal Institute of Chartered Surveyors (RICS). Previously, she worked at 3Dlabs, as Vice-President of Engineering and Operations; at eComData, as Managing Director; and at the centre of UK government, spending two years in HM Treasury and three in the Department of Business, Innovation and Skills at the Better Regulation Executive (BRE).
The Open Data User Group will support the work of the Data Strategy Board (DSB), and will advise it on what public sector data should be prioritised for release as open data. The ODUG will be empowered to use the most appropriate channels of engagement with the broader users and re-users of open data, in order to reach out to all those organisations and individuals with an interest in increasing the amount of open data released by the public sector.
3. You can follow the Open Data User Group on Twitter: @odugUK.
4. The Data Strategy Board's key purpose is to create maximum value, for businesses and people across the UK, from data held by Ordnance Survey, the Met Office, The Land Registry and Companies House (the Public Data Group Trading Funds).
Published 10 July 2012