Op-ed by British Ambassador Thomas Reilly on tourism in Morocco
Op-ed on the importance of tourism by British Ambassador to Morocco, Mr Thomas Reilly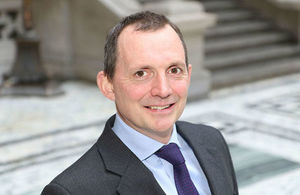 I first came to Morocco in 1998 as a tourist. We rode in old buses which stopped in the most out-of-the-way places where men climbed on the roof and hauled sheep up by their horns. We ate in market places where snakes twirled around our feet. We fed drinks to camels on endless sandy beaches. We watched the sun set over the Atlantic and we dreamed the idyllic dreams of youth.
I was so entranced by Morocco that, I came back again in 2000. This time, we hired a car and drove all round the country – Essaouira, Marrakesh, Agadir, Chefchaouen. We got lost in mazes of endless mountain passes. We slept in tiny hostels lost at the bottom of deep valleys. We fell into streaming rivers carrying ice-cold melt-water away from the melting snow caps. We drove down roads that had no purpose. We played drums with the tribes in the desert. And we wondered that so much variety and the beauty could be present in one country - from desert and mountains deep gorges and rich sandy beaches to the rich cultural heritage of imperial cities, lost forts and amazing medinas. I subsequently learned that Morocco has nine sites classified as World Heritage Sites by UNESCO – my only surprise is that there are not more!
I loved every bit of my two trips – not only for the splendour of the geography and history, but also for Moroccans' strong sense of hospitality and their welcoming, tolerant and generous society - an undeniable added value for the development of any tourist industry. I never dreamed that I would have the privilege of coming back to Morocco nearly 20 years later as the British Ambassador.
And it seems that I am not alone amongst my fellow countrymen in my fascination with the natural beauty and variety of Morocco is not alone. The British association with Morocco is long. There is still a strong British community in Tangiers - which is a most attractive city, which increasing numbers of British tourists visit for the beauty of its Old Town, its historic monuments and associations, its beaches and of course its proximity. When I visited in February this year to show my family where would be living, the Riad in which we stayed in Marrakesh was full of British tourists.
It is therefore no surprise to me to learn that Morocco is the third most popular destination for British tourists outside the EU (the first is the USA and the second is Turkey). British tourists to Morocco are the third highest in number after France and Spain and spend the second highest number of nights in the country. A rough calculation suggests that British tourists contributed nearly one billion Dirhams to the Moroccan economy in the first six months of 2017.
And that very proximity is part of the attractiveness of Morocco. I flew back to the UK from Rabat in June. Four hours after the aeroplane doors closed, I was walking through the door of my house in rural Hampshire. It is that proximity, mixed with the almost limitless variation of city and countryside that Morocco offers that draws more than 610,000 British tourists here every year. But Morocco has so much more to offer and I would love to increase the number of British visitors to Morocco to one million visitors every year – an ambition shared by the Moroccan Government. Their 2020 Vision plans to double the size of the sector to reach 20 million visitors and raise the country's ranking to become one of the world's top twenty tourist destinations. There has already been much progress towards this vision - Morocco saw more than a 20% increase in international arrivals in the first half of 2017 and I am confident that this number will keep growing, especially with the increase of international flights connecting Morocco to destinations around the world.
Tourism brings direct economic benefits. It makes up over 10% of the world's GDP and nearly 20% of Morocco's GDP (by way of comparator two of the most popular European destinations are Spain (which makes 14.2% of its GDP from tourism) and France (where the figure is 8.9%). Research indicates that people who visit another country are 13% more likely to subsequently invest in that country – multiplying the potential economic benefit. The influx of tourists generates income, creates employment and brings in all-important foreign-exchange earnings. Done correctly, tourism can promote sustainable development, improve the well-being of host communities and help protect the natural environment.
I believe that tourism is an integral part and parcel of the weft and warp of modern relations between two countries. Responsible tourism breaks down cultural barriers (both of the host country and of the tourist), opens eyes to other ways of life, throws back the doors of opportunity and helps mutual understanding and appreciation: within the tourism sector everyone is an ambassador for their own culture - everyone has a responsibility to introduce the other to their own. So in my view, encouraging more British tourists to come to Morocco is not only good for the economic health of Morocco, but serves directly to strengthen the historic bilateral relationship between our two countries and encourages British investment in Morocco.
Tourism enriches our lives, strengthens our societies, improves economic opportunity and breaks down barriers. It serves to bind us together and remind us once more that there is much more that unites us, than divides us: and that in the end is, surely, the principle role of an Ambassador.
Published 20 September 2017