Online Owner Verification launches
Land Registry has launched a new Online Owner Verification service, allowing customers to verify their property ownership data against our records.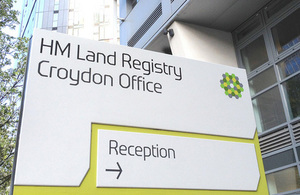 With almost 24 million registered property titles, we have one of the world's largest transactional property databases.
The new service combines the benefits of the existing Online Data Matching service, with a significant number of enhancements that reflect what our customers have told us they need. This includes match variables (known as partial matching or fuzzy logic), historical queries and more flexible pricing options.
Benefits
The introduction of partial matching results mean spelling variations or incomplete names now has a greater chance of being matched with the correct property address and/or title number. In addition we will not charge for an enquiry if we cannot match the supplied address to our records.
Historical matching will open up new business opportunities to our customers, by allowing them to verify whether the person named matches a previous named owner on our records. Historical searches will go back as far as we hold electronic records on the title, but no further than 2005.
With a choice of payment plans, the service offers value for money to both low and high volume users. Choices include:
Upfront credit option: offers a guaranteed price per request over quarterly and yearly periods
Pay as You Go option: based on a monthly invoice, raised on usage
In addition to the new attributes, Online Owner Verification is provided through our web-based Business Gateway channel to maximise the benefits this technology can bring. Benefits include increased volumes, faster verification times and increased compatibility with user systems
Customers can also integrate it into their internal processes or services easily.
To order this service or for more information, please contact us:
Data Services Team
HM Land Registry
Rosebrae Court
Woodside Ferry Approach
Birkenhead
Merseyside
CH41 6DU
Existing Online Data Matching customers may want to migrate to the new service so they can benefit from service improvements and flexible pricing options. These customers should contact the Add Value Team or their Business Development Executive in the first instance.
Published 17 March 2014