Online exporting package launched to help British businesses 'sell while they sleep'
UK Businesses will have access to a new suite of services to help boost their international trade through UKTI's new e-Exporting Programme.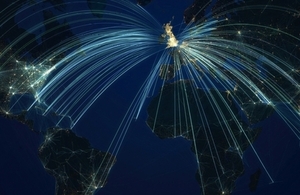 new suite of services and support to help UK companies take advantage of online selling, forecast to reach £60 billion by 2018
UK Trade and Investment (UKTI) is working with the world's leading e-marketplaces to help UK companies fast-track international sales
UKTI has detailed information for more than 400 of the world's e-marketplaces, to help companies plan their sales strategies
Businesses of all sizes from across the UK will have access to a new suite of services to help boost their international trade through online channels.
Trade Minister Lord Livingston will launch the government support package on Monday 8 September 2014 at the Autumn Fair at the NEC in Birmingham.
UKTI's new e-Exporting Programme has been created to ensure UK companies are best placed to tap into the huge opportunities that exist online. The growth of technology has dramatically changed consumers' purchasing habits with Britons now spending approximately £91 billion a year online making the UK one of the world's leading e-commerce countries.
UKTI is working with a number of international e-marketplaces including Tmall China, Amazon China, Japanese e-commerce platform Rakuten and Harper's Bazaar. Operating through these e-marketplaces presents a cost-effective way for companies – particularly small and medium-sized businesses – to increase their reach in terms of both numbers and geography. The programme encourages UK exporters to reach out to the generation of digitally-capable consumers who are increasingly influenced through online channels.
The programme is the first of its kind in the world – UKTI is the only organisation to hold the operational information of global B2C and B2B e-marketplaces with the central aim of using the information to revolutionise exporting.
Trade Minister Lord Livingston said:
The UK leads the world in cross-border online sales, but there is still much more we can do to help British business seize this huge opportunity with forecasts of 3 billion online consumers in just 3 years.

Trading online is a great way to start exporting to a new country, enhance distribution in an exciting market and effectively sell while you sleep. This is why we are launching the UKTI e-Exporting Programme to help businesses thrive abroad in some of the world's largest markets.

UK products are GREAT – it's time to take them to the world.
UKTI launched a pilot of the new programme in November 2013 introducing British companies to Chinese e-marketplaces including Tmall, Jumeii and ASOS China. Since this pilot more than 100 UK brands have launched in China through an e-marketplace, from Karen Millen and Cath Kidston to Tangle Teezer and Tyrrell's Crisps, leading to the development of the global programme launching today.
UK retailers including Mothercare, organic skincare brand Neal's Yard Remedies, and fashion brands Emma Willis and Matthew Williamson have also endorsed UKTI's efforts to support UK retailers and brands with their e-commerce strategy in order to boost exports. The programme is expected to help approximately 50,000 UK companies establish online trade channels.
CEO and founder of mobile payments company Powa Technologies Dan Wagner said:
The UK is rapidly becoming a global centre of excellence for e-exports as a result of the innovation efforts of hundreds of British companies across the UK. The democratisation of the web now allows companies of all sizes to extend their reach around the world and tap into new markets through e-commerce, something that would have taken an extraordinary amount of effort and investment only a few years ago.

The support provided by the UKTI's e-Exporting Programme will enable businesses of all sizes to rapidly expand their operations, creating new jobs and wealth both at home and abroad, and cementing the UK's position as an innovative, world leading exporter of quality goods.
Head of international business development for Debenhams John Scott said:
Debenhams has worked closely with UKTI and is glad to see government react to how digital has transformed the retail sector with the e-Exporting Programme. We encourage more British brands to engage with online channels as Debenhams has done in order to increase their sales, reach out to customers through their chosen channel and future proof their business model.
The e-Exporting Programme is a continuation of the government's commitment to get more UK businesses trading online and meet the UK trade ambition of £1 trillion by 2020. The programme follows UKTI's 'Grow Online, Expand Worldwide' campaign that was launched late last year (2013) by Business Secretary Vince Cable.
Notes to Editors
1.For more information please visit:
2.Key components of UKTI's e-Exporting Programme
full information, vital steps and advice on accelerating exports through online channels available at www.gov.uk/e-exporting
free expert digital advice from UKTI's e-Exporting advisors through your local UKTI office
access to information from UKTI's e-marketplace navigator – matching UK companies with the right e-marketplaces according to their product category and chosen market
face to face events and meetings with senior executives from the world's leading e-marketplaces
access to UKTI's e-Expertise Bank, industry experts providing advice on all the steps needed to establish a presence on an e-marketplace
the GREAT Campaign, particularly the pillar e-Exporting is GREAT, will be used strategically to promote UK products on e-marketplaces around the globe. The e-Exporting is GREAT campaign will raise UK business awareness to the benefits of online selling
3.UK Trade and Investment (UKTI) is the government department that helps UK-based companies succeed in the global economy. We also help overseas companies bring their high quality investment to the UK's economy – acknowledged as Europe's best place from which to succeed in global business. UKTI offers expertise and contacts through its extensive network of specialists in the UK, and in British embassies and other diplomatic offices around the world. We provide companies with the tools they require to be competitive on the world stage. For more information on UKTI, visit www.gov.uk/ukti.
4.UKTI's 'Grow Online, Expand Worldwide' campaign was launched on 16 October 2013 by Business Secretary Vince Cable. The programme helped 7,000 small and medium sized enterprises export online through an approved global network of business-to-business support. The campaign delivered training and advice to small and medium sized enterprises and provided funding to help improve their web capabilities over the next 2 years.
The campaign included local support for:
4,000 aspiring web exporters through awareness raising sessions, a webinar campaign and international web workshops
1,200 web export ready businesses through e-commerce masterclasses
1,500 web exporters with bespoke one-to-one advice from experts
the first pilot by UKTI to work with 100 companies from the UK retail sector to sell online by helping them to list their products on the world's leading online sales site Tmall China (part of the Alibaba Group)
5.Transatlantic Trade and Investment Partnership (TTIP): The EU and USA are currently in negotiations over a free trade deal which could add £10 billion to the UK economy and benefit an average household by £400 each year. It will achieve this by opening up new markets, cutting trade tariffs and increasing regulatory coherence for UK businesses, reducing prices and increasing choice for UK consumers. TTIP is a top UK Government priority to join up the world's largest economies. The EU and USA account for almost half of global GDP and a third of trade flows (almost £1.8 billion of trade daily) whilst the USA is the UK's top export destination after the rest of the EU. TTIP aims to improve opportunities for UK businesses in a wide range of sectors including automotive, chemicals, food and drink and pharmaceuticals. The government is engaging with a wide range of business and civil society stakeholders as the negotiations progress. For more information on TTIP, visit Transatlantic Trade and Investment Partnership
6.Memorandum of Understanding (MOU) on Protection of Intellectual Property: The China-Britain Business Council (CBBC) and Alibaba Group signed the MOU on Protection of Intellectual Property on 3 September 2014.
The signing occurred during the visit of a delegation of UK companies and Government representatives to China led by UK Minister for Intellectual Property, Baroness Neville-Rolfe, for the UK-China IP Symposium Week.
Under the agreement, Alibaba has agreed to work with CBBC companies to remove product listings subject to takedown notices from companies alleging that they infringe their intellectual property rights. The MOU was signed to tackle one of the major concerns of British companies doing business in China, and capitalise on the emergence of the Chinese consumer and the rapid rise of e-commerce in the country.
7.Case studies of businesses and e-marketplaces involved in the e-Exporting Programme are available on request.
Published 8 September 2014