News story
Online Bargain Hunters Urged To Shop Safely On Cyber Monday
Almost half of Britons admit they don't always shop safely online.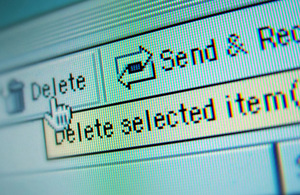 The Home Office has issued advice on how to shop safely online this Cyber Monday (1st December) after a new survey by Cyber Streetwise (funded through government's National Cyber Security Programme) revealed that 45% of Britons admit that website security isn't always a priority when shopping.
Cyber Monday is set to be one of the busiest online shopping days in the UK, surpassing even last year's record-breaking activity, and the day is traditionally a great opportunity for shoppers to get Christmas bargains. The Cyber Streetwise research has been launched to highlight the importance of shopping safely online with reputable retailers over the Christmas period.
A new survey from Cyber Streetwise has revealed that only a quarter (28% ) of shoppers look for the 's' indicating 'secure' in 'https://' and just over half (54%) actively look for an image of a padlock in the URL on the payments page. Other precautions recommended by government experts in order to stay safe while shopping online include:
Use a search engine to check reviews of the store
Use a credit card as it affords greater protection
If ever in doubt, or if something just doesn't feel right, don't enter any details and leave the online store immediately
Check delivery and returns policies
Most importantly, remember, if an offer looks too good to be true, it probably is.
The research highlighted the pitfalls of not prioritising security, with 11% of consumers saying they have been duped by bogus online stores.
Of the 11% affected:
46% of those surveyed paid for goods they didn't receive
30% had their identity / personal details stolen
17% were not able to get their money back on inadequate items
Modern Slavery and Organised Crime Minister Karen Bradley said:
We want people to ensure they are shopping safely online, as they would on the high street, and the advice from Cyber Streetwise is integral in preventing cybercrime during the retail season.

As well as checking for signs that a website is secure, there are other ways to stay safe when shopping online: installing security software, having up to date anti-virus software and using different passwords for different accounts and websites. These are just some of the basic security measures we should all be implementing.
Consumer champion and founder of www.letssavemoney.com Sarah Willingham said:
We're all tempted by a bargain and there is always great excitement on Cyber Monday with lots of great offers available. However this research from Cyber Streetwise shows that we need to be more aware of ways to identify safe shopping sites – always looking for the 's' in 'https://' and for the padlock in the URL on the payments page is particularly important. Problems can arise if a bargain looks particularly appealing and we don't stop to think. Rather than be swayed by bargain blindness, and offers that are too good to be true, shoppers should follow the clear advice on the Cyber Streetwise website.
Working alongside Cyber Streetwise to raise cyber security awareness are partners Get Safe Online and City of London Police. The former has revealed a 'Risky Christmas List', outlining bargains that may be too good to be true whilst the City of London Police has announced the '12 Online Frauds of Christmas', offering guidance to consumers.
Advice on shopping safely online, along with other tips for staying safe online such as downloading software and application patched when prompted, installing anti-virus software, checking privacy settings on social media and using strong passwords that include three words or more and a symbol, can be found on cyberstreetwise.
Published 28 November 2014