News story
One new member appointed to the Youth Justice Board
The Secretary of State has appointed Dr Tony Sewell as a member of the Youth Justice Board until 2 October 2016.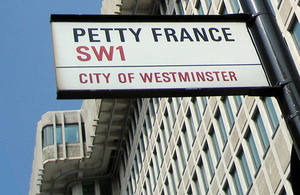 The Youth Justice Board for England and Wales is an executive non-departmental public body. It oversees the the youth justice system in England and Wales and works to prevent offending and reoffending by children and young people under the age of 18. It makes sure that custody for them is safe, secure and addresses the causes of their offending behaviour.
Board members are appointed by the Secretary of State for Justice.
Dr Sewell has no declared political activity during the last 5 years.
Dr Sewell's appointment is subject to security clearance.
Biography
Dr Sewell began his career as a London school teacher and has spent many years as a teacher trainer working at Kingston and Leeds Universities.
Dr Sewell has published widely on the experience of boys in education and has held consultant posts with, among others, the World Bank and the Commonwealth Secretariat.
He works in the UK and the Caribbean and in 2012 was appointed by Boris Johnson to chair the Mayor's Education Inquiry into London Schools.
Published 29 October 2015