News story
One million jobs supported by Britain's development finance firm
The International Development Secretary has praised CDC for supporting more than a million jobs for the first time in its history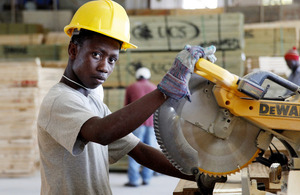 The UK's development finance institution CDC - which is owned by the Department for International Development - is now investing in 1,250 businesses and providing 1,109,000 jobs in some of the world's poorest countries, according to their latest annual report published today (26 April 2013).
This is a record level of jobs supported by CDC and represents a 14% increase from the last year.
The annual report also revealed that these businesses contributed £2.6 billion in tax revenues in the countries in which they operate, helping to reduce governments' dependency on aid.
Responding to the report, International Development Secretary Justine Greening said:
British development focus is shifting to drive an end to aid dependency through jobs. Reaching the one million jobs mark through CDC shows the role the private sector can play in reducing poverty in developing countries.
I want to see British companies centre stage in that push. It can be a win-win for us all as we help markets to develop.
CDC published a new business plan last year after a comprehensive review and public consultation on their operations by the Department for International Development. Following the review, CDC restructured the way it operates to ensure it can direct its capital to where it is needed most and measure its success in terms of jobs supported, not simply profits generated.
Published 26 April 2013