On the cusp of durable success in Helmand
Recently returned from Helmand, Brigadier Patrick Sanders says the years of effort and sacrifice are producing results.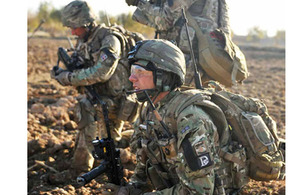 When 20th Armoured Brigade deployed on Operation HERRICK 15 in October 2011 to take over responsibility for Task Force Helmand, only central Lashkar Gah district was under the control of the Afghan National Security Forces (ANSF).
Fast forward to just after the end of their tour in May 2012 and the final area of Helmand where British forces operate, Nahr-e Saraj, has begun the transition process.
The numbers are impressive and offer encouraging reading for all those interested in the future of Afghanistan:
security responsibility for all of Lashkar Gah and 60 per cent of Nad 'Ali is now led by the ANSF;
there is 90 per cent local population confidence in the Government of Afghanistan and the ANSF;
36 base locations have been handed over to the ANSF; and, perhaps most encouragingly,
there were reductions in violent acts in some areas of Nahr-e Saraj of up to 85 per cent over the course of Operation HERRICK 15.
So how has such an improvement been achieved?
Well frankly it has had nothing to do with us," said a modest Brigadier Patrick Sanders, Commander of 20th Armoured Brigade and Task Force Helmand during Operation HERRICK 15.
It has been the accumulation of previous brigades deployed in Helmand since 2006 that has really set us up for what has truly been a unique tour.
It was the first time when the planets all aligned, where security was good enough, and where Afghan confidence and capability was good enough for them to begin to take the lead, and that has been transformational.
As ISAF prepares for 2014 and the withdrawal of combat troops, the focus of the brigade's tour was on preparing the Afghans to take the lead:
I think if there is anything that characterised the six months for us it was an extraordinary Afghan appetite for, and a real growth of that appetite, to be put in charge, and we now, as the UK Task Force, are working very firmly for Afghan masters," said Brigadier Sanders. "We are following rather than leading, which is a fundamental change.
The formal process of transition, by which control is gradually handed over to Afghan forces, has shown good progress over the tour, with Nad 'Ali in the west of Helmand joining the process in January, the second area under UK control to do so after Lashkar Gah last July.
Shortly after the end of 20th Armoured Brigade's tenure Nahr-e Saraj district, the third and final area where UK troops operate, began the transition process.
Across the country as a whole, Afghan forces will soon have lead security responsibility in areas home to 75 per cent of Afghanistan's population. By the middle of 2013 all of Afghanistan will have begun the transition process, on track for completion by the end of 2014.
Lieutenant Colonel Ed Fenton, Commanding Officer of 3rd Battalion The Royal Regiment of Scotland (3 SCOTS), which operated under 20th Armoured Brigade on Op HERRICK 15, explains:
Transition in Nad 'Ali will be a 12 to 18 month process staged precinct by precinct. There are 12 police precincts in Nad 'Ali, from south to north. The stages of transition reflect the security challenges ongoing in the north and the developing capacity of the Afghan security forces.
We are thinning our presence checkpoint by checkpoint and we are doing that in agreement with the Afghan security forces.
In the transition areas Combined Force Nad 'Ali no longer conducts framework activity, so we don't do the security patrols in the area.
As a good example of how our forces are progressing and moving away from a ground-holding combat role, Lieutenant Colonel Fenton explains that B Company of 3 SCOTS started its tour as a ground-holding company in southern Nad 'Ali and within a couple of months had merged with another area of operations.
That released them to become a manoeuvre company and revolve around operations alongside the Afghan security forces in the north of the district.
Once those were successfully completed the company further transitioned into police mentoring teams:
Transition has actually taken root," said Brigadier Sanders. "We are on the cusp of delivering durable success in central Helmand and in the three districts that matter most to the Afghans and which sit in the ISAF Commander's top four priorities.
Indeed, the situation has changed so much that recent independent polling has found that security now rates as people's fifth concern behind education, healthcare, corruption and justice, which is a marked change over the last 12 months:
Of course there are still reasons to be concerned," Brigadier Sanders cautions. "Central Helmand is still contested and will be for some time. The insurgents are resilient, they are determined, but they are significantly less capable and have lost an enormous amount of support from the Afghan people themselves.
Brigadier Sanders says another cause for concern is corruption:
I don't think it is any secret that corruption is a problem in Afghanistan, but we are seeing some courageous decisions to root some of this out," cautioning further that the ANSF are still a work in progress and local confidence is not yet irreversible.

So what all that means is that if transition is going to stick and we are going to deliver something durable post-2014, we need to maintain our commitment to them to that point and then a strategic commitment and partnership beyond that.
Op HERRICK 15 in numbers:
**45 **per cent reduction in violence over 12 months
60 per cent of Nad 'Ali is under Afghan forces lead for security
**100 **per cent of Lashkar Gah is under Afghan forces lead for security
2 schools opened in Helmand during the tour
**24 **per cent increase in IED finds from HERRICK 14
36 per cent of base locations handed over to Afghan forces
**90 **per cent of local population support the Afghan Government and the ANSF
**7 **per cent support for the Taliban
**85 **per cent fall in violence in Nahr-e Saraj
70-metre Freedom Bridge, the longest built by UK forces since the Second World War.
Published 8 June 2012