On operations with the Paras' Bandmaster
There are many career opportunities within the Armed Forces, but there is only one job that you have to know how to do before you enter service.
When troops go on operations, their unit's band often goes with them. In a theatre of war, the power of music can play an extremely important role in improving morale and maintaining the momentum of troops.
But the members of the band go into war not just to play music. As well as providing the vital heartbeat of rhythm for homecoming and freedom parades, hundreds of military musicians deploy alongside their fellow servicemen and women to Afghanistan to provide soldiering support, such as undertaking guard duties wherever they can.
Warrant Officer Class 1 Oliver Jeans is the Bandmaster of the Band of The Parachute Regiment which, along with the soldiers from 16 Air Assault Brigade, has recently returned home from operations in Afghanistan:
Our involvement over there was not much marching band at all, but lots of music," WO1 Jeans said.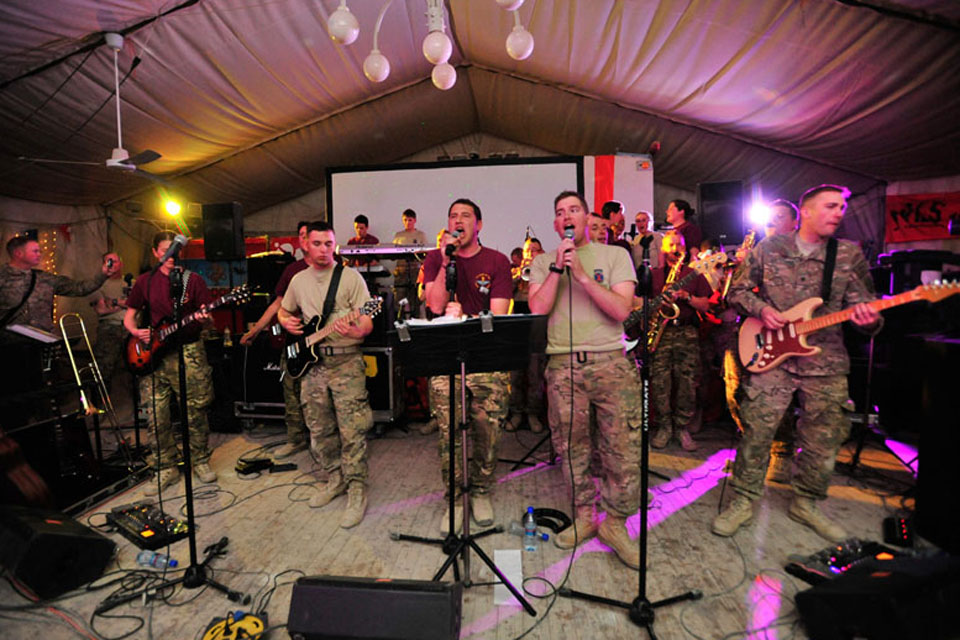 "And our main contribution was to really focus on enhancing and supporting what is known as the 'moral component of fighting power'.
We were looking after the troops' morale, taking music very close to the front lines and providing it to small groups of people, giving them a break from their daily routine. We played the music they like to listen to, so really up-to-date rock and contemporary pop music.
Although they were in theatre to play an important role, the Para Band also extended a helping hand to their fellow soldiers in other areas, as WO1 Jeans explained:
We were able to cover some of the guard duties for them in the main operating bases, to give them a little bit of extra downtime and that helps morale immensely. So when the band wasn't working in the musical sense, we were working in other ways.
The work of a military band can take them around the world and even see them performing for royalty:
The Army is the largest employer of performing musicians in the United Kingdom," WO1 Jeans said.
The job has taken me on non-operational deployments to a lot of places in Europe, including France, Germany, Bratislava and Vienna.
Just before I started, the Para Band had a lovely deployment to Canada and we used to go very regularly to Arnhem in Holland. The Foot Guards Bands find themselves further afield in places such as Japan, Australia, Canada and America.
And as WO1 Jeans explained, it's tough to get in:
It's the only job in the Army that you have to be able to do before you join the Army.
If you want to fly Apache helicopters or drive tanks, the Army will tell you how to do that. Musically you have to pass an audition on your instrument before you can start basic training.
However, as WO1 Jeans explained, the day-to-day priorities for military musicians are clear:
Soldier first, musicians second.
Published 12 August 2011