Press release
Olympics: One Planet Centre opened in Athletes' Village
Environment Secretary Caroline Spelman today officially opened the One Planet Centre in the Olympic Athletes' Village.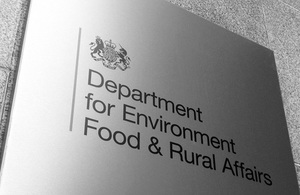 One of the secret jewels of the London 2012 Games, the Centre is at the heart of the Village. It is a place where athletes can learn about how the Olympic Site was built using sustainable techniques, and then encourages the athletes to use their role-model leadership to inform their fans and followers around the world about how each one of us can reduce waste and better protect our natural environment.
The Centre was funded by Defra, with support from Coca-Cola and leading charity BioRegional. It plays a key role in the Games' objective to build a more sustainable future, not just around Olympic venues, but across the globe.
Olympic Villages traditionally generate an inspiring 'one world' spirit of camaraderie. Through a series of fun, social events and competitions, the One Planet Centre has been designed to capture that spirit and make it accessible to the world. Whether athletes use social media while at the Games to spread the sustainability message, or become more active "ambassadors" once they return home, informing people in every community across the globe about reducing energy use, cutting waste, and protecting the environment will be an important lasting legacy of the London 2012 Olympic & Paralympic Games.
The Centre is built from sustainable materials, and is a great example of collaboration between London 2012, Government, charity and business. In addition to the Centre there are a number of "Sustainability Circles" designed by the Royal College of Art to discover that tell the story of living more sustainably as well as creating a 'treasure hunt' competition for athletes. It will also the meeting point for athletes who want to find out more about the transformation of the Olympic Park, through "A Walk in the Olympic Park".
Further information
Published 12 July 2012