Olympics Legacy Minister returns to Weymouth and Portland and supports local business
Bob Neill, Olympics Legacy and Growth Minister, visits Weymouth and Portland on Tuesday, 7 August to watch sailing events on the Nothe. This…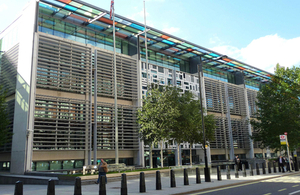 Bob Neill, Olympics Legacy and Growth Minister, visits Weymouth and Portland on Tuesday, 7 August to watch sailing events on the Nothe.
This will include the Men's and Women's RS:X (windsurfing) medal races, and the Women's Elliot 6m quarter finals.
Mr Neill said:
It is absolutely fantastic that team GB are doing so well at the Games, and I'm thrilled to be here again in Weymouth and Portland to experience the sailing events first hand. The local area has had a real buzz over the last few days with Ben Ainslie striking gold and the superb race that Iain Percy and Andrew Simpson gave to win their silver medal on Sunday.

My visit has also provided a wonderful opportunity to visit the town and see, first hand, some of the key local projects including the sports arena on the beach, where children are getting the chance to try a wide range of sports.

The fact that so many people are enjoying both the sailing and the free events here shows these really are Great Britain-wide games. If anyone is looking for something fun to do in their holidays this week and beyond, I can whole heartedly say that Weymouth and Portland is a splendid place to visit.
Bob Neill visits the Dorset Ice Cream Company
During his visit the Minister will also visit local businesses including the innovative pop-up store 'Quba' in Brewers quay. And he will watch some of the Olympic events on the large screens on the Live site on the beach with the thousands of local supporters.
There has been a huge effort from people across the UK to ensure that everything is ready for the Games, and Weymouth and Portland has played a key role. The whole Olympics package on offer in the local area is a great chance to show off Weymouth and Portland, and celebrate the role that people, places and businesses from the region are playing in London 2012.
Notes to editors
1. South West and Sport
The South West region has hosted more than 40 pre-Games training camps for many of the world's sailing teams who have trained at the new Weymouth and Portland Sailing Academy, the Castle Cove Sailing Club and Weymouth College. The University of Bath has hosted the Chinese swim team and the Malaysian Olympic team and will host the British and Danish Paralympic teams.
Olympic and Paralympic athletes from the region include:
Ben Ainslie CBE (Sailing)

Tom Daley (Diving)

Liam Tancock (Swiming)

Anne Dunham (Paralympian - Equestrian)
2. South West and the Olympic Park
Over 60 local businesses have played a role in the construction of the Olympic Park, including:
Structural Metal Decks in Poole - supplied metal decking and studs for the Olympic Stadium

Riise in Plymouth - which provided underfloor heating for the Athlete's Village

B&B Moulds near Ilminster in Somerset - supported the concrete casting on the Olympic Stadium

Blom UK - an aerial photography firm which has captured images of the Olympic Park developing over time
More than £12 million worth of Olympic Park contracts were won by businesses based in the South West, with further benefits cascading down the supply chain.
3. South West and Torch
The Torch was in the region for eleven days, taking in key landmarks such as St Michael's Mount Cornwall and Royal Crescent in Bath, Stonehenge and Durdle Door on the Jurassic Coast. It also travelled by Rainforest Balloon at the Eden Project and was carried by Vintage Boats in Bristol.
4. South West and Inspire
More than 270 community projects have been awarded the Inspire Mark, including:
Community Action Through Sport (CATS) in Bude, Cornwall, which encourages troubled teenagers to do voluntary work by offering surfing courses which help them gain accredited surfing and beach safety awards

Dance in Devon, a group encouraging the county to don their dancing shoes in a series of events and activities - among them a 'Dancing on Dartmoor' extravaganza featuring live music and traditional dancing at Haytor in Dartmoor National Park

RELAYS (Regional Educational Legacy in Arts and Youth Sport) - a project delivered through universities in the south west of England. It aims to inspire young people and their communities to participate in, create and promote cultural and sporting activities. Successful festivals, events, collaborations and mentoring have been delivered through the three strands of the RELAYS programme: sport, cultural and business support.
5. South West and Culture
There have been more than 100 locally funded and managed cultural projects officially inspired by London 2012 in the South West, including Teenage Rampage which supports young musicians across the region and played a starring role at the unveiling of the Olympic Rings at St Pancras in London.
Among the major cultural highlights include:
Give me tomorrow - (19 May - 23 Sep), a new exhibition at Tate St Ives by one of the most important and respected living American artists, Alex Katz, covering all six decades of his career

Piercing Brightness (Penzance 24 Jun - 29 Sep), an exhibition of new work by internationally acclaimed Shezad Dawood presented in two venues in Penzance

Music Nation (March), which saw the BBC Concert Orchestra working with children and families across Devon and Cornwall.
Images
Published 7 August 2012