Olympics airspace restrictions begin
Extra airspace restrictions around London and the South East, designed to ensure a safe and secure London 2012 Olympic Games, started at midnight on Saturday 14 July.
The Civil Aviation Authority (CAA), National Air Traffic Services (NATS) and the Ministry of Defence have worked together to inform airspace users about the restrictions and how people can continue to use UK airspace during the Olympics.
Now, equipment and personnel from the Royal Navy, Army and Royal Air Force are in place to enforce the restrictions and provide enhanced protection for the period the temporary restrictions are in force.
In the months leading up to the Games, the CAA has delivered the largest pilot education programme ever undertaken in the UK. Its aim has been to ensure everyone in the aviation community is aware of the new airspace restrictions. Pilots are required by law to understand airspace changes before each flight and the CAA has written to all private pilots, distributed over 60,000 leaflets, and conducted briefings to raise awareness.
The restrictions are part of an air security plan that will be enforced by the Armed Forces.
The air security plan includes:
RAF Typhoon fast jets, which deployed to RAF Northolt on 9 July
RAF Puma helicopters with RAF Regiment sniper teams, which deployed to Ilford on 11 July
Army Rapier and Starstreak ground-based air defence systems, which arrived at six sites in London on 12 July
Royal Navy Sea King helicopters, which deployed to RAF Northolt on 13 July
Helicopter carrier HMS Ocean, the Royal Navy's largest ship, serving as a base for helicopter operations as well as accommodation for personnel, returned to the capital on 13 July.
Phil Roberts, Assistant Director of Airspace Policy at the CAA, said:
The Government's airspace security restrictions will primarily affect private pilots so, together with pilot associations and other bodies, we've been undertaking a significant programme to alert pilots to how they need to comply and keep flying during the Games.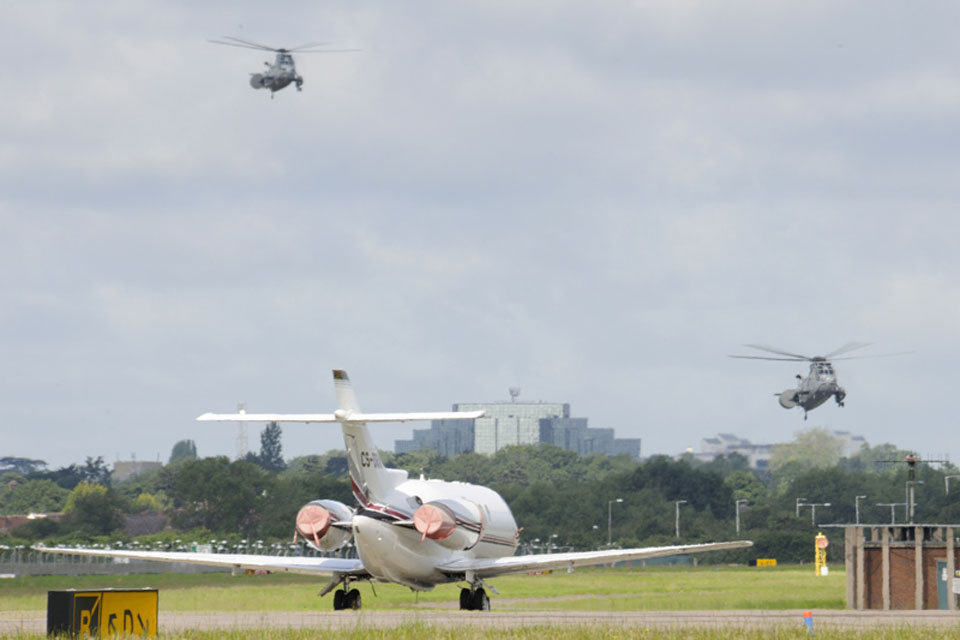 Air Vice-Marshal Stuart Atha, Commander for Olympics Air Security, said:
Our air security preparations build on the decades of Royal Air Force experience in controlling the air to secure the UK. We have worked with the Home Office and the police, and with the Civil Aviation Authority and NATS, to deliver a plan that balances the need for security with the desire to minimise disruption to other air users.
With the additional capabilities we are adding from the RAF, and from our colleagues in the Royal Navy and the Army, this is a robust plan that enables us to respond appropriately to a range of possible situations.
Published 14 July 2012