Olympic tickets offered to UK Armed Forces members
Serving troops are being given the chance to win tickets for next year's Olympic Games, reports Lorraine McBride.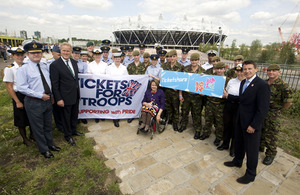 Ten thousand tickets are to be given to troops serving with the Army, Royal Navy and Royal Air Force and their families. Speaking a stone's throw from the London 2012 Olympic stadium, Lord Sebastian Coe and Baroness Tanni Grey-Thompson announced details of the donation at a media launch attended by scores of troops.
As an Olympic legend renowned across the world, Lord Coe knows about the magic of winning gold in the world's most successful games and now he is 'absolutely delighted' that troops will have the opportunity to see world class athletes competing in London 2012.
Lord Coe said:
The Armed Forces are an extraordinary group of people. It is the occupation that is quite unique because it demands the ultimate sacrifice and I think it would have been unimaginable if we had an Olympic games in the United Kingdom that in one way or another, did not recognise the extraordinary Herculean efforts of all our Armed Services and in particular their families.
Standing alongside Lord Coe, Sergeant Chris Osborne, serves with the Princess of Wales's Royal Regiment (PWRR). Sgt Osborne is an Afghan veteran and can't wait to enter the public lottery to try to win some Olympic tickets:
If I'm successful, I'd love to watch the 100 metres final," he laughed.
You and a few million others!" interjected Lord Coe.
All the troops admitted that it was a real boost to be offered a once-in-a-lifetime opportunity to be able to go and see the Olympic Games in their own capital city:
The Olympics is such a massive event and so popular worldwide, to have the opportunity to go to such a famous event is fantastic," said Sgt Osborne.
Private Chris Staras, also serving with the 2 PWRR, said:
I've only just found out about the chance to go and see the Olympics but it sounds fantastic. I'm getting married next year so it would be lovely to take my wife.
Tickets For Troops (see Related Links) is being funded by London 2012's Ticketshare scheme, which sees proceeds from prestige hospitality seats used to provide tickets to worthy causes.
Despite the public angst over the Olympic ticket allocation with two million sports fans missing out, Lord Coe was unapologetic about the decision to give away tickets to the Armed Forces.
He said:
Actually I don't really want to be too defensive over this. I think it will be absolutely unimaginable not to recognise the work of our Armed Services and particularly the families that stand behind our troops.
Service personnell can apply for the Olympic tickets on the Tickets for Troops website until 1 November 2011.
Log on," urged Lord Coe, who knows better than most, the thrill of participating in the world famous games.
There was no shortage of troops who fancied their chances in the ticket lottery.
Private Ben Skelton, PWRR, is an Olympics fan and said:
I will definitely apply and hope to get tickets for the Paralympics. It's just a bit different but they sound a bit special. A lot of people can move fast but to do it in a wheelchair is even harder.
Lance Corporal Tony Middleton, PWRR said:
I'm obviously interested in applying, anything for free! I'm particularly interested in swimming so that would be great. It's great that the Armed Forces are being recognized and fantastic morale for the men. Anything to get the blokes in there so we can support the country like the country supports us when we're away.
Published 15 June 2011