Olympic preparation continues at pace as Government leads testing exercise
Culture Secretary Jeremy Hunt, the Mayor of London Boris Johnson and senior ministers will join over 3000 key 2012 Games-time staff tomorrow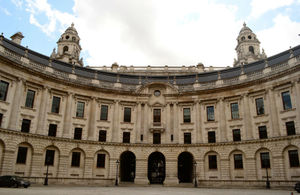 The second of a series of major Olympic test exercises begins tomorrow in operation centres and Games-venue locations across the capital and the country.
The exercise is part of a rigorous programme of testing every aspect of the 2012 Olympic and Paralympic Games being undertaken by the government, the Greater London Authority (GLA), the London Organising Committee of the Olympic Games (LOCOG), the emergency services and other partners. It is the second of a series of such exercises and is in addition to LOCOG's competition test event programmes to test its venues as well as its vital operations including competition equipment, scoreboards, results, workforce and officials.
Participants will be drawn from central Government departments, the GLA, LOCOG, the Metropolitan Police, the London Ambulance and Fire & Rescue Services, Transport partners and local government.
The exercise, taking place between 6th and 8th December, will mirror the busy competition schedule of days 4, 5 and 6 of the 2012 Olympic Games next summer and will provide staff with an array of scenarios, so they can practice in their Games-time roles. Participants will be challenged with a wide range of issues including extreme weather conditions, transport disruption on the tube and rail networks, and security threats that may impact on a smooth running Games. 
The exercises will test how those involved will manage the unprecedented nature and scale of the Games which includes multiple sporting events and parallel celebrations often taking place at the same time in different parts of the country.  They will test all aspects of Games-time planning at all levels, including their effectiveness, resilience and the decision-making capability of key Games-time structures.
This will also be the first time that Ministers will be involved in the testing exercise, in preparation for their roles during the Games.
Jeremy Hunt, Secretary of State for Culture, Olympics, Media and Sport said:
"Testing is an essential part of our preparation for the 2012 Games as we want to ensure timely and seamless coordination, so no matter what happens during the six weeks - be it a fault on a tube line or something more serious - we will be able to respond quickly and efficiently."
The Mayor of London, Boris Johnson said:
"To ensure we stage a brilliant 2012 Games we must be prepared for every eventuality or problem and quickly nail them. That's why it is crucial we test every cog and spring in the 2012 machine to ensure we deliver a wonderful summer of sport and celebration across our great capital and country.
"These exercises will put all the key players from the 2012 family through their paces again and again so they are unphased by anything that might come their way during this unprecedented period."       
Home Secretary Theresa May said:
"This exercise is another step forward in our Olympic planning. The testing programme is a vital part of our operation to ensure that everyone is prepared to deliver a safe and secure Games that London, the UK and the whole world will enjoy."
Notes to Editors
The exercise will be run 24 hours a day over the three day period starting on the morning of Tuesday the 6th December and finishing in the afternoon of Thursday 8th December. It will include Ministers Jeremy Hunt, Theresa May, Justine Greening, Hugh Robertson and Mayor Boris Johnson and Assistant Commissioner Chris Allison as well as senior officials in co-ordination centres playing in their Games-time roles.

On the days of the Games the exercise will be reflecting (days 4, 5 and 6 of the 2012 Olympic Games) there will be a number of early stage competitions taking place including, amongst others, hockey, basketball and swimming.  There will also be the medal stages of equestrian and judo.
Press Enquiries: 020 7211 2210
Out of hours telephone pager no: 07699 751153
Public Enquiries: 020 7211 6000
Published 2 December 2011