Olympian greets injured Royal Marines at end of Thames row
Injured Royal Marines were met by Olympic rower James Cracknell yesterday as they completed their gruelling 150-mile (241km) row up the Thames in aid of charity.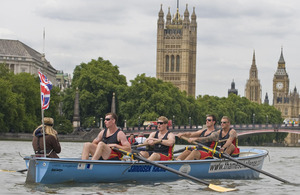 The Royal Marines recovering from wounds, injury or illness, mostly sustained on operations with Taunton-based 40 Commando in Afghanistan last year, have rowed the length of the Thames from Lechlade in Gloucestershire to Westminster and Greenwich, where they finished up at the Old Royal Naval College yesterday.
The 150-mile (241km) challenge, undertaken at 30 miles (48km) a day, crossed 45 locks and took some 55,000 strokes.
None of the Royal Marines (and one Royal Navy able seaman) who have taken part in the row has ever rowed before.
The event has been a personal and team challenge and part of the recovery pathway, very much in keeping with the Royal Navy/Royal Marines Fortitude initiative, to facilitate further and enduring rehabilitation opportunities through sport and adventure training.
The challenge was also a platform for raising awareness and funds for the essential work of the Royal Marines Charitable Trust Fund.
Colour Sergeant Geoff Power, Termoli Troop, 40 Commando Royal Marines, said:
The spirit of the Thames Challenge has been embraced by all the lads recovering from illness and injury. The nature of the sport has helped us maintain physical fitness, motivation and team work.
At the end of the row yesterday, James Cracknell congratulated the Marines and showed them his Olympic medals. Retired Royal Marines Brigadier Jeremy Robbins, project leader, said:
The crew were delighted to be met by James Cracknell - with his Olympic gold medals! His approach to elite sporting excellence, challenge and rehabilitation after injury are inspirational, and match those that in its own way the Thames Challenge set out to achieve.
The crews are today, Friday 15 July 2011, being presented to Her Royal Highness The Princess Royal at Buckingham Palace to crown their achievement.
Brigadier Robbins added:
I am very proud of the Marines who have lived up to their tough reputation by completing the Thames Challenge. This was supposed to be a physical and mental challenge while also being enjoyable and rewarding.
In all respects it lived up to this hope. It also highlights the therapeutic process which we invest in our long-term injured, wounded and ill. This row addressed the individual physical and mental side of the recovery issues each of these Marines faces full on.
The row is over now, but the fundraising continues, as does the Marines' own challenges to recover as fully as they can and to go forward and meet their potential, whether in or outside the Royal Marines.
On behalf of all the rowers and their support team, I would like to thank everyone who has made this event possible and successful.
Donations and further information on completing other 'challenges' can be obtained from the Thames Challenge website - see Related Links.
Published 15 July 2011