Ofsted report into welfare and care of recruits published
The third annual Ofsted report on the effectiveness of welfare and duty of care for recruits and trainees in Armed Forces initial training was published today.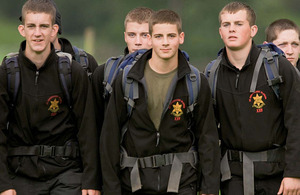 The report demonstrates that the training establishments visited during 2010/11 have been graded as 'satisfactory' or better and contains several examples of good practice that can be shared with other training organisations.
For the first time since these inspections began, one of the training establishments, HMS Sultan, was judged to be outstanding for the overall effect of its care and welfare provision.
Of the nine establishments previously inspected under this framework, four had improved their overall effectiveness of welfare and duty of care. None had declined in the 2010/11 inspection year.
Recruits and trainees reported that they felt safe, were motivated by training, and that their welfare needs were met effectively.
The process of self-assessment is becoming well-embedded within training establishments and this is a positive development.
The Armed Forces welcome external inspection for the perspective it brings and the opportunity to consider good practice from outside of the Ministry of Defence.
Minister for Defence Personnel, Welfare and Veterans, Andrew Robathan, said:
I am pleased that all the locations inspected by Ofsted have undergone an assessment of their effectiveness regarding the provision of welfare, care and support, and all have been graded as 'satisfactory' or better.
But there is clearly room for improvement. Resourcing and operational requirements continue to impact on the Armed Forces and the training environment is not exempt from these pressures.
It therefore remains essential for leaders and managers to continue to strive for excellence in delivering efficient and effective training that gets the right people with the right skills to wherever today's Armed Forces need them.
As Minister for Defence Personnel, Welfare and Veterans I have met a number of young people in various stages of training for the Armed Forces. Their enthusiasm is infectious - particularly when they are finally able to train for their chosen specialist trades and professions.
They all recognise that by learning to work together in teams, and by broadening their knowledge and skills, plus a degree of hard work, they can achieve their goals. Time spent in training can be tough and we recognise that, to train effectively, those joining the Armed Forces need to be supported and their care and welfare needs met.
Commissioned inspection from Ofsted is used to inform and improve Armed Forces initial training and I am grateful to Her Majesty's Chief Inspector and her team for providing this third report which, as well as highlighting areas for improvement, contains examples of good practice that can be shared.
The Armed Forces are one of the few employers who offer the opportunity where an individual can join with few qualifications and with the right motivation leave with valuable and marketable vocational/educational/management qualifications and skills. It is a significant contributor to the skills base of the national workforce.
Annually, upwards of 8,500 apprenticeships are completed by members of the Armed Forces.
The report contains detailed findings about the progress made by each establishment since its previous inspection - see Related Links.
Published 9 September 2011