Ofsted Annual Report 2013/14 published
Sir Michael Wilshaw, Her Majesty's Chief Inspector (HMCI), has launched Ofsted's annual reports for schools and further education and skills.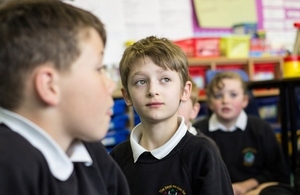 The reports for 2013 to 14 are accompanied by a commentary by HMCI and 8 regional reports.
You can download all the reports on GOV.UK:
London regional report
South East regional report
East of England regional report
South West regional report
East Midlands regional report
West Midlands regional report
North East, Yorkshire and Humber regional report
North West regional report
In addition, Ofsted has updated its outstanding providers list and you can also read the annual report press release.
Data View has been updated with regional inspection data to the end of August 2014.
The regional performance data tool has also been updated with the latest attainment data.
The reports are based on the findings of more than 7,000 inspections of schools, colleges and further education and skills providers carried out during 2013/14. Speaking at the launch of his third Annual Report, Sir Michael Wilshaw said that primary school standards are continuing on an impressive upward trajectory – with more than eight in ten schools now rated at least good.
The overall rate of improvement in secondary schools, however, has stalled. A similar number of secondary schools inspected over the last 12 months improved as declined – while over 50 more secondaries are now in special measures than was the case a year ago.
During the same period, teaching in the further education sector has improved but too many college courses are still not equipping learners with the skills that employers want and the economy needs.
Published 10 December 2014
Last updated 10 December 2014
+ show all updates
Links to data visualisation tools added

First published.