News story
Offshore wind co-ordination could save up to £3.5 BN
1 March 2012 Coordination in the way links to offshore wind farms are developed could reduce the cost of offshore connections by between…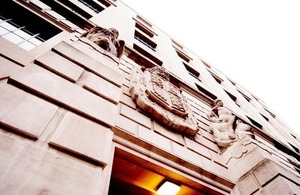 1 March 2012
Coordination in the way links to offshore wind farms are developed could reduce the cost of offshore connections by between £0.5 and 3.5 billion.
Preparatory investment in anticipation that more generators will connect could be allowed - as long as Ofgem is satisfied that customer interests are protected.
Energy regulator Ofgem and the Department of Energy and Climate Change (DECC) have today published a report showing how more co-ordination in the development of offshore links and infrastructure can be achieved. In tandem, Ofgem has launched a consultation on potential changes to the regulatory regime for offshore transmission assets to take some of this work forward.
The Government's Renewable Energy Roadmap suggests that by 2020, between 11 and 18GW of wind farm capacity could be built off Britain's coast, compared to 1.6GW now. Future wind farms will be substantially larger and further offshore than existing projects. Instead of building individual connections for each development, they could be interlinked to lower the overall construction and operating costs. This would mean the offshore network could grow incrementally and efficiently.
This coordinated approach could reduce the cost of offshore connections by 8-15% (£0.5-3.5 billion - see notes to editors point 4). This would help meet the Government's target of reducing the cost of offshore wind to £100 per mega watt hour (MWh) by 2020. It could also pave the way for an offshore network in the North Sea linking wind farms off Britain's coast to other European countries.
Robert Hull, Managing Director, Commercial, Ofgem E-Serve, said: "Competitive tendering for the ownership of offshore power links is attracting new investment into the GB energy sector and saving customers money. We want to continue making savings, which is why coordinating links, where this can increase efficiency, is so important. We consider we can do this in a way that protects customers while providing stability and certainty for wind farm investors and prospective offshore transmission owners."
Charles Hendry, Minister of State for Energy, said: "There are a number of ways we can reduce the cost of offshore wind, and this is definitely one of the most exciting.
"Linking up power cables between offshore wind farms could make some serious savings, so we would be crazy not to encourage it. These cables could even be linked up to European projects, increasing opportunities for trading electricity.
"I now look forward to seeing the package of measures announced today implemented, and to see them build on the cost savings already being made through bringing in competition and new entrants into this sector."
Guy Nicholson of RenewableUK said: "We welcome DECC and Ofgem's work on coordination and Ofgem's consultation. Early investment in planning, developing, permitting and constructing offshore transmission will help to deliver networks in the most cost effective manner. As well as connecting the 18GW of offshore wind generation RenewableUK expects to be operating by 2020, the offshore transmission regime can help reduce timescales and costs for both onshore reinforcements and interconnection with the rest of Europe."
The measures announced today are intended to clarify how co-ordination can be achieved. Ofgem would assess whether anticipatory investment is beneficial to the development of an efficient network. Approval would also depend on other factors. For example, developers and the system operator would have to show that there is demand for capacity to be built, and that there is a robust benefits case for customers.
In time, these changes could potentially be adapted to also help the development of a European offshore network if this does materialise.
---
Note to Editors
1. Conclusion report and consultation document
2. What is the Offshore Transmission Owner (OFTO) regime?
The offshore regulatory regime was developed by Government and Ofgem and was launched in 2009. The regime is for licensing offshore electricity transmission and uses competitive tendering to ensure the cable connections are delivered on time and at a reasonable cost. It is the first time that Ofgem has used competitive tendering in this way. The first phase of the project involves two transitional tender rounds and opens the way for transmission licensees to own and operate transmission assets for offshore renewable projects which have been or are being constructed by the offshore generator. At a later stage, tenders will be undertaken under an enduring regulatory regime which will enable Ofgem to run transmission investment tenders that allow for either:
OFTOs to design, build, operate and maintain the transmission assets; or
Generators to build the transmission assets and then transfer to OFTOs under completion of construction.
The generator would specify which option it wanted to pursue. The conclusions published today relate to improving coordination under the enduring regime. This is because the transitional tender rounds concern links which are either complete, or in more advanced stages of construction. These earlier projects have been smaller and nearer to shore, meaning that for most the efficient way for them to be connected has been through individual links to the onshore network.
3. Who decides on whether anticipatory investment can take place?
Anticipatory investment can and already has been occurring under the OFTO regime, but industry participants have suggested that there is a need for greater clarity on the framework for such investment. As a result, Ofgem has set out in its consultation document initial proposals for an approach to anticipatory investment in offshore transmission infrastructure. This proposes that offshore generators, National Grid (as system operator) and local transmission owners could have a role in identifying where anticipatory investment could support the development of an economic and efficient network. It also puts forward a possible process where Ofgem could provide an earlier assessment of whether it would be economic and efficient to include anticipatory investment within the scope of works. Under these proposed measures, a key factor in Ofgem's assessment would be whether or not undertaking the proposed Anticipatory Investment would be in the interest of consumers.
4. Reducing the cost of offshore wind
The Department for Energy and Climate Change has a vision to reduce the cost of offshore wind to £100/MWh by 2020. More information is available in DECC's Renewable Energy Roadmap document:
The cost savings identified are outlined in consultants' reports commissioned by Ofgem. TNEI/PPA Energy assessed possible cost-effective network configurations and investments required to connect offshore generation to the National Electricity Transmission System. Redpoint Energy carried out a review of the current policy and regulatory framework and commercial incentives to understand where there may be inadequate incentives for, or barriers to, coordination. The estimated cost savings of 8-15% are relative to a total estimated baseline of £6-24 billion. This is the cost of connecting and operating the new links out to 2030 across the range of offshore generation scenarios considered. The reports can be found on the Ofgem website
5. About Ofgem
Ofgem is the Office of the Gas and Electricity Markets, which supports the Gas and Electricity Markets Authority, the regulator of the gas and electricity industries in Great Britain. The Authority's powers and duties are largely provided for in statute, principally the Gas Act 1986, the Electricity Act 1989, the Utilities Act 2000, the Competition Act 1998, the Enterprise Act 2002, the Energy Act 2004 as well as arising from directly effective European Community legislation.
For further media information contact: Chris Lock 020 7901 7225
Published 1 March 2012