World news story
Official opening of the International British School in Zagreb
Ambassador David Slinn and COBIS Director Colin Bell welcomed the opening of the new International British School in Zagreb, Croatia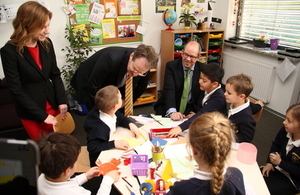 Although it has already been operating for several months, the new International British School in Zagreb held its official opening ceremony today. The ''Bright Horizons'' International British School is the first in Croatia to secure certification from COBIS, the Council of British International Schools, which guarantees that the education provided by the school conforms to the UK National Curriculum, now in use in over 1,500 schools in more than 80 countries and also that the school adheres to UK child protection and environmental standards.
UK Ambassador to Croatia, David Slinn, as well as the COBIS Director Colin Bell, welcomed the opening of the school, and congratulated the Director, Milena Prodanić Tišma, on her achievements in establishing the school and delivering such a high standard of education to the pupils at the school.
David said he was honoured to accept the role of Patron of the school, and added that he was both amazed and intrigued by the questions about the UK, maths and life in general when talking to the pupils!
More on the "Bright Horizons"
Published 7 April 2014