World news story
Official Launch of "STEM Careers of the Future"
The British Embassy launched Cambodia's first ever STEM careers guide entitled, "STEM Careers of the Future" on 17 February 2016 at Kids City Asia.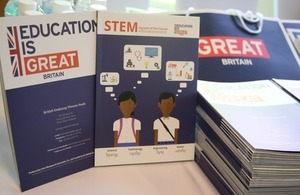 Lord Puttnam, the British Prime Minister's Trade Envoy to Cambodia, British Ambassador Bill Longhurst, officials from the Education Ministry, Amaury de Saint Blanquat, Managing Partner at St. Blanquat & A. who produced the guide, as well as representatives from business, embassies and international organisations joined the event.
(Download the book here: STEM Careers of the Future (PDF, 2.68MB, 31 pages) )
The guide identifies the top 20 STEM (Science, Technology, Engineering and Maths) careers gaps in Cambodia over the next 10 years. Presented in a user friendly and eye catching way, it includes information on the education and training needed, where students can study, and the progressive salaries that can be expected.
The aim of the guide is to show young Cambodians what exciting career opportunities there are in STEM, to introduce important jobs they may never have heard of, and to motivate them to choose STEM.
The guide includes case studies of Cambodian professionals successfully working in each career who share with young Cambodians what is required skills-wise for the exciting opportunities available in STEM.
The publication is a product of extensive research conducted by Saint Blanquat & A. with funding from the British Embassy. This research included discussions with industry experts, quantitative surveys and face-to-face interviews with over 300 organisations in Phnom Penh, Siem Reap, Battambang and Sihanoukville.
HE Dr. Hang Chuon Naron, Minister of Education, Youth and Sport said:
Choosing the right career means undertaking the right studies, but information is lacking among education circles in Cambodia. Together with the British Embassy, we sought to bridge this information gap and this booklet will serves a career guide for students to better understand their options academically and professionally.
This career guide will also provide parents with a better understanding of what their children are pursuing, allowing them to support their children in the choices.
This guide offers young students key information regarding what each position is, where and what to study for each job, what salary can be expected and also offers first-hand insight into each position from Cambodian professionals who have already walked the paths to success.
HE Bill Longhurst, the British Ambassador to Cambodia said:
Many young people are not choosing to go into STEM careers, because they perceive the subjects as being too difficult, not well respected or they believe they will not lead to well-paid jobs. But Cambodia needs more engineers, more doctors, more network developers and more statisticians in order for it to develop.
We believe this guide will be of great value to young Cambodians, helping them understand the opportunities that lie both within and beyond Cambodia through STEM careers.
This guide is the first of its kind in Cambodia and will help individuals identify where the real opportunities are for STEM skills in Cambodia. We hope it will provide the inspiration and information needed to encourage many more young Cambodians to consider a career in STEM.
Notes
"STEM Careers of the Future" is part of a wider programme of work by the British Embassy.

Together with the Ministry of Education, Youth and Sport (MOEYS) and IDP Cambodia, the embassy has set up a STEM Ambassador Network for Cambodia. The STEM Ambassadors are now running road shows at schools in the Cambodian provinces to raise awareness of the opportunities available in STEM and to encourage more students to choose STEM subjects.

The Deputy Ambassador, Dr Bryony Mathew, has written a bilingual English/Khmer children's STEM Book about a young girl with a great idea who becomes an engineer. The book is called, "Sky Pods in Phnom Penh" and will be launched later this month.

The Embassy has collaborated with MOEYS and the Cambodian Mathematical Society to bring a new British method of maths teaching to Cambodia called "Diagnostic Questions" which works by identifying and correcting misperceptions. The project aims to increase the Grade 12 maths pass rate, and the embassy has already trained over 1100 teachers and students on this new method.

The embassy is now producing a Smart Phone app of Diagnostic Questions, and this will be launched at the 2nd Cambodian Science and Engineering Festival on 9-11 March.

The embassy is working with Kids City to run STEM Activity days for Cambodian students and their teachers at the Science Discovery Center.

The embassy is helping to develop leadership skills through a series of Chevening Career Development Learning Sets; mentoring young Cambodian professionals; and giving talks at local universities on the importance of STEM education and what opportunities there are for young people going into these areas for work.

The Science Discovery Center at Kids City includes over 100 hands-on science activities for children to try. The Center is open to the public, and also runs an extensive school outreach program. It uses more than 80 credit-card sized Raspberry Pi computers, the first large scale use of the Raspberry Pi in Cambodia.
Published 18 February 2016