World news story
Official launch of STEM Ambassadors Cambodia
The official launch of STEM Ambassadors Cambodia took place on Tuesday 27 October at the Jaguar Land Rover RMA showroom.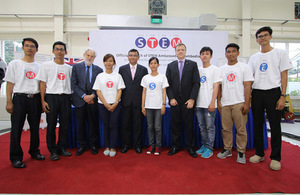 Lord Puttnam, the British Prime Minister's Trade Envoy to Cambodia, the Cambodian Education Minister HE Dr Hang Chuon Naron and Ambassador Bill Longhurst, jointly launched the STEM (Science, Technology, Engineering and Maths) Ambassadors Cambodia.
The British Embassy in Phnom Penh together with the IDP Education Cambodia is setting up a network of volunteer STEM Ambassadors to act as role models and mentors for young Cambodians to inspire them to consider a career in STEM.
Selected STEM Ambassadors will be running inspiration sessions at schools and universities in Phnom Penh and in the provinces over the next few months to raise awareness and interest in STEM subjects.
The Education Minister HE Dr Hang Chuon Naron said:
Science, Technology, Engineering and Maths (STEM) create, explain, build, and innovate in the world around us. Cambodia needs more young people skilled and qualified in these subjects to develop our human resources, the economy, and drive our nation's development. Our nation needs STEM graduates to become more competitive in the region and the world.
I encourage Cambodian students to take a strong interest in these subjects and parents and teachers to support students in choosing STEM majors and careers.
Ambassador Bill Longhurst expressed his support for STEM education.
He said:
According to the Ministry of Education, Youth and Sports, of the 250,000 post secondary graduates in 2014, only three per cent came from technical and vocational fields like agriculture, science and engineering. Many new employment opportunities are being created in these fields but not enough people are taking them up. As young graduates struggle to find jobs, employers are having difficulty recruiting for vacant positions in agriculture, science and engineering.
Each one of the bright young Cambodians with whom I have interacted over my time here has convinced me that Cambodia is at a critical stage where it needs to not only increase the quantity of jobs, but also the quality of those jobs as well. For Cambodia to boost its development trajectory and catch up with its neighbours more young Cambodians need to become scientists, engineers, technicians, food microbiologist and agriculture experts, to name just a few.
STEM fields are vital for the future of Cambodia, whether as a way for Cambodia to raise its productivity, or more importantly to climb up the global value chain thereby increasing the wage and the living standards of its people. The UK stands hand in hand with Cambodia in its journey towards that future – we're increasing the number of our Chevening scholarships year on year. In 2015, we provided 16 scholarships to aspiring young Cambodians to do their one-year Masters in the UK. We will look to increase the number of our scholarships still further in 2016 and, in line with Cambodia's development needs, we will particularly welcome applications from those who want to study in STEM-related fields.
My advice for young Cambodians is 'Do your maths, go the distance and go STEM'.
For more pictures of the launch, visit our Facebook page: British Embassy in Cambodia
Published 28 October 2015