World news story
Official launch of Diagnostic Questions
Diagnostic Questions was launched on Tuesday 27 October at Royal University of Phnom Penh in the Cambodia-Korea Cooperation Centre.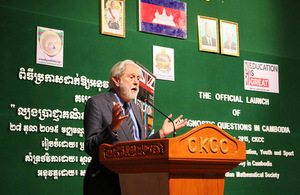 Lord Puttnam, the British Prime Minister's Trade Envoy to Cambodia, together with the Cambodian Education Minister HE Dr Hang Chuon Naron, Ambassador Bill Longhurst and representatives of the Cambodian Mathematics Society, officially launch a new British maths teaching method: Diagnostic Questions.
Diagnostic questions is an innovative way of teaching maths which the British Embassy is bringing to Cambodia with the aim of increasing grade 12 maths exam pass rates. The method uses multiple choice questions to identify misperceptions in students and is designed to be an additional teaching tool; it does not replace traditional teaching methods.
100 new diagnostic questions have been produced based on the Cambodian grade 12 maths curriculum and these have been printed onto a deck of cards so that they can be distributed to high school maths teachers working across Cambodia.
Diagnostic Questions was developed by Craig Barton, a British maths teacher who will be in Cambodia to train teachers and students on his teaching method from 21-29 October.
For more pictures of the launch, visit our Facebook page: British Embassy in Cambodia
Document information
Published: 28 October 2015