Officer Cadets prepare for the rigours of Sandhurst
Students on the MOD's Defence Technical Officer and Engineer Entry Scheme prepare for officer training at Sandhurst.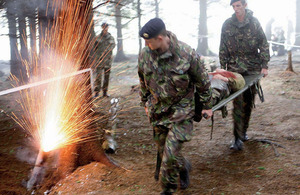 Every year, as the long-awaited British summer finally begins to arrive, students across the country are unwinding following the stress of exams.
Their counterparts on the Defence Technical Undergraduate Scheme, however, are in a very different position.
With their initial officer training just months away, the 20-somethings are preparing to experience the thrills and spills of a military career.
And the final step on that path is Exercise Typhoon Revival, a five-day serial that tests 120 individuals in fieldcraft and fitness on Sennybridge Training Area in Wales.
Here, participants are pit against a series of demanding command tasks that assess endurance and teamworking skills:
Mentally, having the confidence to do five days in the field is something really useful to go to Sandhurst with," explained Officer Cadet Sophie Longstone.
The 22-year-old has just completed a masters degree in civil engineering and architecture and will begin training at the Royal Military Academy Sandhurst in January 2013:
We'll learn from all the drills we practise, but a lot of it is the realisation that you can do it," she added.
Challenges range from construction and casualty evacuation to mentally-taxing missions such as debating and strategic planning.
And like the other serials these youngsters have undertaken in the build-up to 2013, it tests their ability to lead and think under pressure.
Officer Cadet Joe Lawson had to guide his troops through a casualty evacuation scenario:
As the commander you need to make sure you don't get sucked into the task," he explained.
This is a strong section that knows what it's doing so, as long as the enthusiasm is high, I can try to direct them well and keep a lid on things - make sure people don't go running off.
Speaking after completing an engineering task, construction management graduate Officer Cadet Anthony Broadfoot added:
Essentially this recreated what we need to do in forward operating bases. Guys have got very little kit but they need to keep fit, so using limited material we had to create a multi-gym.
My friends think it's a bit quirky spending your weekend doing this but I'm in a very privileged position because in the construction sector it is difficult to get a job, yet I have one to go into.
Once a scenario is complete, graduates have little time to dwell on their performance as they move on to the next test. Their ability to arrive at each stand on time not only demonstrates their navigational skills but determines how much rest they get.
On average, attendees will complete a round trip of 90km during the course - but with an even longer journey firmly in mind. Of all routes into the Armed Forces, the one they are on requires perhaps the greatest dedication, taking five years from start to finish.
The course is the university component of the MOD's Defence Technical Officer and Engineer Entry Scheme, which identifies new talent for all three Services:
They join us as children and finish the scheme as adults," said Wing Commander Jeremy Johnson, commander of the exercise.
It's a huge commitment from them over five years but also from the Ministry of Defence in trying to identify such people so early on.
The serial achieves final preparation for initial officer training and beyond. But primarily it's a last check that yes, I can push myself that little bit further.
Officer Cadet Lawson added:
This is called 'Revival' for a reason. I haven't been on exercise for two years so this is a good little wake-up call for Sandhurst in September, to make sure I'm ready and fit.
This report by Becky Clark is taken from the August 2012 edition of SOLDIER - Magazine of the British Army.
Published 20 September 2012