World news story
Office Closure in Malaysia: Easter
The British High Commission in Malaysia will be closed on 18 April 2014 (Friday) and 21 April 2014 (Monday)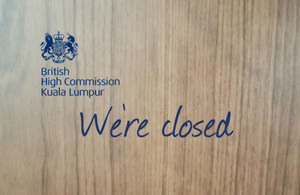 The British High Commission in Kuala Lumpur will be closed on 18 April 2014 (Friday) and 21 April 2014 (Monday) for Easter.
The closure will affect all services on location, including Consular and UK Trade & Investment.
If you are planning to travel during the Easter break, please ensure that your passport has at least six months validity on arrival at your destination.
We apologise for any inconvenience caused. If you are a British national needing urgent consular assistance, please call 03-2170 2200.
Further information
Visit our website for contact information and opening times.
Published 17 April 2014