Press release
Offenders to pay more towards victim support services
Criminals will pay up to £1.5 million more per year to help victims recover from the effects of crime.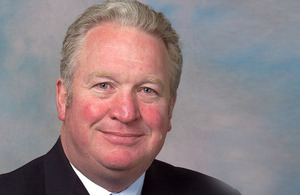 Criminals will pay up to £1.5 million more per year to help victims recover from the devastating effects of crime, Victims' Minister Mike Penning has announced today.
The victim surcharge, which has already raised around £51 million since 2010, will be extended so that offenders given a custodial sentence in the magistrates court will now be ordered to pay the surcharge.
The money raised is then used to help victims of rape, domestic violence, families bereaved by murder and fatal road traffic crimes.
Victims' Minister Mike Penning, said:
"It is only right that offenders should pay both for their crimes and to help repair the damage they have done.
"I want all victims to get the support they need and deserve, whether through counselling, help through the criminal justice process or another form of support.
"The money being raised through the surcharge is already being put to use in some groundbreaking ways to help people move on with their lives as much as possible. I am pleased we are bringing in these changes and raising more money for victims."
Previously offenders sentenced in the magistrates court could be given extra days in prison instead of paying the surcharge, however the government has brought in the Anti-Social Behaviour, Crime and Policing Act 2014 to prevent this and ensure criminals were made to pay.
The extension will come in from 1 September, and will see those sentenced to 6 months or less ordered to pay £80, and £100 for those given between 6 and 12 months imprisonment by magistrates. It is expected it will apply to 43,000 cases per year. This change is the final reform pledged by the coalition in its bid to make offenders pay more to help their victims.
It is the latest in a number of changes introduced by this government to make more money than ever before available support victims of crime. Next year there will be a potential total budget of up to £100 million, doubling Ministry of Justice's previous spending of around £50 million per year. A further £12 million raised through the victim surcharge and other fines has recently been allocated to Police and Crime Commissioners (PCCs) on top of their budgets for next year, specifically for innovative projects to support victims. This will allow for schemes to be set up in line with the local need in that area.
Notes to editors
The victim surcharge was introduced in 2007 at a flat rate of £15 as a way to make offenders contribute to the cost of helping those impacted by crime move on with their lives as much as possible. In October 2012 the victim surcharge was increased and extended up to a maximum of £120 to reflect the seriousness of sentence. In July 2013 Penalty Notices for Disorder (PNDs) were also increased by £10 with the additional revenue contributing to victims services.
Where an offender is under 18 and sentenced to a prison sentence of any length by a magistrate, the 2014 order will set the surcharge at £20.
The government set out plans for offenders to contribute more towards the cost of victims' services in the consultation 'Getting it right for victims and witnesses.'
We have considerably improved support given to victims, including revamping the Victims' Code to ensure victims of the most serious crimes get access to vital services like counselling to help them cope and where possible, recover from what they have been through.
A breakdown of the additional £12 million for PCCs can be found on GOV.UK.
This is part of a package of measures to ensure offenders pay up to £50 million per year towards victim support services.
Published 8 August 2014