World news story
OECD launches UK Economic Survey: "Finishing the Job"
Latest OECD Economic Survey confirms that the UK has jump-started its engines for growth. Now is the time to 'finish the job'.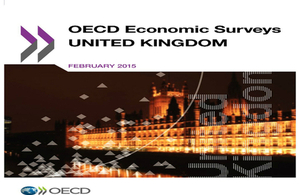 OECD Secretary General Angel Gurría joined Chancellor George Osborne in London to present the OECD's latest UK Economic Survey on 24 February. The biennial survey evaluates UK economic prospects and sets out policy recommendations on macroeconomic and structural issues. It is drafted by the OECD Secretariat, but all member countries of the Organisation contribute views. This year's survey includes a special focus on infrastructure planning and growth, and on the post-crisis features of the UK banking system.
The report begins with the good news, underlining that annual growth in the UK rose by 2.6% in 2014, the fastest among G7 countries. The OECD goes on to predict that the UK will grow at the same rate this year. The Organisation attributes this recovery to accommodative monetary policies combined with measures to support lending and revive the housing market. Thanks to a vibrant and inclusive labour market, the OECD calculates unemployment to have fallen rapidly to 5.7% with employment hitting record levels.
The report also notes, however, that labour productivity since 2007 has been sluggish. This has held back real wages and improvements in living standards. House prices have increased rapidly as housing supply has not risen to meet demand. Secretary General Gurría called for the UK to "finish the job", adding: "Boosting productivity is essential to making this recovery durable and to ensuring that the benefits are shared by all. This requires further efforts to improve infrastructure, enhance access to finance for sound businesses and promote skills."
To complement the Economic Survey, the OECD also launched Employment and Skills Strategies in England. This report focuses specifically on the challenge of better supporting employment and growth. It makes the case for devolution of employment and skills policies to the local level thus improving connections between skill formation and employers' needs.
Published 25 February 2015