News story
Ocean Way investigation report and safety flyer published
Capsize and sinking of fishing vessel Ocean Way resulting in the loss of 3 lives.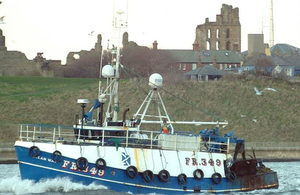 The report into MAIB's investigation of the capsize and sinking of the 17m twin rig stern trawler Ocean Way, 100 miles off the north-east coast of England on 2 November 2014, is now published. The vessel had 5 crew on board; 2 were rescued and 3 lives were lost.
The report contains details of what happened, actions taken and a recommendation. Read more.
The MAIB has produced a safety flyer to the fishing industry which accompanies its report. Along with a summary of what happened, the flyer also highlights important safety lessons for the fishing community regarding the fitting of EPIRBs with an integral GNSS receiver; ensuring that freeing ports are of the correct size and are functioning; and, quartering seas creating a broaching risk for well-found vessels.
Press enquiries
Press enquiries during office hours 01932 440015
Press enquiries out of hours 020 7944 4292
Published 18 November 2015