News story
Obsolete red tape to be scrapped within retail and manufacturing sector
A consultation launched today proposes removing regulations in retail and manufacturing sectors that the Red Tape Challenge has identified as…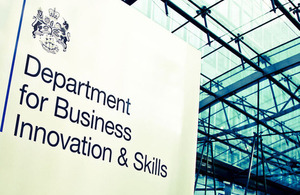 A consultation launched today proposes removing regulations in retail and manufacturing sectors that the Red Tape Challenge has identified as no longer required.
The announcement comes after a recent Government report showed that British businesses will be freed from around £4 million of regulatory burdens between January and June 2012.
Many of the regulations covered in the consultation were introduced to tackle a specific problem with a particular product, such as fireguards for domestic heating appliances or customers being misled through disingenuous pricing.
Whilst these regulations were very effective at stamping out the problem they were designed to tackle, they are not flexible enough to deal with new products or practices in today's world.
For example the Children's Clothing (Hood Cords) Regulations 1976 were introduced to remove outer clothing such as raincoats from the market as their cords posed a strangulation risk to small children. However, a newer updated European Standard is now in place BS EN 14682, which covers cord and drawstring safety in all children's garments and not just outer clothing.
The Heating Appliances (Fireguards) Regulations 1991 requires products to meet the standards as they were in 1971 and are now clearly out of date. Consumers are instead protected by the General Product Safety Regulations 2005 which covers the safety of all consumer products and uses the latest product safety standards.
Consumer Minister Norman Lamb said:
"Removing regulation which is out of date, unnecessary and overcomplicated, whilst protecting customer safety, is a win for consumers and businesses. We already have more effective and more practical regulation in place.
"The Government is determined to cut the regulatory burden on companies to help them to innovate and focus on running their business. This move, which is part of a much wider programme to reduce unnecessary regulation, will make life simpler for many thousands of firms across the UK."
The Retail theme was the first sector in the spotlight on the Red Tape Challenge website between April and May 2011. While the Manufacturing sector was examined a few months later between July and September.
The Red Tape Challenge effectively opened up the decision making process across Government, giving different groups and organisations a say in which regulations are necessary and which ones can be simplified or scrapped.
The consultation is seeking views from businesses, the public and voluntary and community organisations on how these changes will impact them. It will run for eight weeks, closing on Wednesday 23 May.
Notes to editors
1) You can see the consultation at www.bis.gov.uk/consultations
2) The list of regulations to be included in this consultation are:
Pyrotechnic Articles (Safety) Regulations 2010

Bunk Beds (Entrapment Hazards) (Safety) Regulations 1987

Children's Clothing (Hood Cords) Regulations 1976

Imitation Dummies (Safety) Regulations 1993

Pencils and Graphic Instruments (Safety) Regulations 1998

Wheeled Child Conveyances (Safety) Regulations 1997

Gas cooking Appliances (Safety) Regulations 1989

Heating Appliances (Fireguards) Regulations 1991

Gas Catalytic Heaters (safety) Regulations 1984

All-Terrain Motor Vehicle (safety) Regulations 1989

Cooking Utensils (Safety) Regulations 1972

Indication of Prices (Beds) Order 1978
3) In addition to the regulations for revocation we are proposing to use this consultation to seek agreement to reduce the age at which Christmas Crackers can be legally purchased from 16 to 12 years old. This also arose from the Red Tape Challenge with retailers commenting on the extra burden the current law puts on them.
4) The consultation also looks at previously revoked regulations which will be removed from the statute book:
Child Resistant Packaging and Tactile Danger Warning (Safety) (Revocation) Regulations 1992

Stands for Carry-cots (Safety) (Revocation) Regulations 1996

Magnetic Toys (Safety) (Revocation) Regulations 2009
5) On 28 February the Government published The Third Statement of New Regulation which was a summary of the one-in, one-out rule for regulations. This can be found here: http://www.bis.gov.uk/policies/bre/better-regulation-framework/one-in-one-out/statement
6) Responses to this consultation will be used to finalise decisions regarding the removal or retention of these regulations. A government response to this consultation, outlining which regulations are to be removed and which are to be retained as a result of evidence gathered through this consultation, will be published within three months of this consultation closing on 16th May 2012.
7) Where regulations are to be removed, this will have effect from 1 October 2012.
8) The Red Tape Challenge was launched by the Prime Minister on 7 April 2011. It gives business and the public the chance to have their say on some of the more than 10,000 regulations that affect their everyday lives. The website is available at www.redtapechallenge.cabinetoffice.gov.uk
9) So far the Government has looked at more than1,200 regulations and intends to scrap or improve well over 50% - cumulatively these decisions will bring real benefit to businesses, Civil Society organisations and individuals.
10) BIS's online newsroom contains the latest press notices, speeches, as well as video and images for download. It also features an up to date list of BIS press office contacts. See [http://www.bis.gov.uk/newsroom](http://www.bis.gov.uk/newsroom) for more information.
Notes to Editors
Contact Information
Name BIS Press Office Job Title
Division COI Phone
Fax
Mobile
Email NDS.BIS@coi.gsi.gov.uk
Name Ed Smith Job Title
Division Department for Business, Innovation and Skills Phone 020 7215 5945 Fax
Mobile
Email ed.smith@bis.gsi.gov.uk
Published 23 March 2012