News story
OBR re-appointment announcements: Graham Parker and Kate Barker
The Chancellor has proposed the re-appointment of two members of the Office for Budget Responsibility (OBR).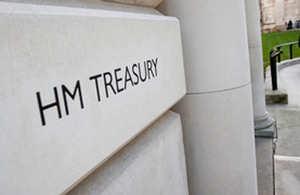 The Chancellor, George Osborne, today proposed the re-appointment of Graham Parker as a member of the OBR's Budget Responsibility Committee (BRC) and confirmed Kate Barker's re-appointment as Non-Executive member of the OBR.
Graham Parker's first term on the BRC concludes on 25 October 2013. If re-appointed, Graham intends to remain in post for three years. Kate Barker's first term of office concludes on 24 June 2014. The Chancellor has appointed Kate for an additional and final three-year period of office, commencing on 21st June 2014.
The Chancellor said:
Graham and Kate have both been a very effective in their respective roles at the OBR, making a significant contribution to the work and standing of the organisation in the years since it was first created.

I am very glad that both Graham and Kate will continue to contribute to the work of the OBR, providing a high level of expertise and ensuring continuity for the organisation in the years ahead.
Further information
Graham Parker has been a member of the OBR since it its inception. Initially a member of the pre-statutory OBR, Graham was formally appointed to the BRC by the Chancellor in April 2011.
A former civil servant with over thirty five years of experience, Graham Parker has significant public finance forecasting expertise for which he was awarded a CBE in 2008. In addition to his current role in contributing to the OBR and enhancing its standing as a new organisation, Graham is also a member of the IMF Fiscal Affairs Division panel of technical experts.
Under legislation the TSC has the right to exercise a veto in appointments to the BRC and Graham Parker may be called to attend a pre-appointment hearing.
Graham intends to remain in post for three years.
Kate Barker was one of the initial Non-Executives appointed to the OBR, first appointed in 2011.
Kate Barker was previously the Chief Economic Adviser at the CBI and an external member of the Bank of England's Monetary Policy Committee, serving from 2001 until May 2010. During this period Kate also led two major government policy reviews on land use planning and housing supply, for which she was awarded a CBE in 2006.
Kate Barker has been appointed for an additional three-year term of office.
About the OBR
The OBR was created in 2010 to provide independent and authoritative analysis of the UK's public finances. The OBR is led by the three members of the BRC who have executive responsibility for carrying out the core functions of the OBR, including responsibility for the judgements reached in its forecasts. The current members of the BRC are: Robert Chote (Chair); Graham Parker; and Stephen Nickell.
Published 19 March 2014