Oakham welcomes soldiers home from Afghanistan
The streets of Oakham were packed with well-wishers last week showing their support for soldiers from 16th Regiment Royal Artillery and 104 Military Working Dog Support Unit who have recently returned home from Afghanistan.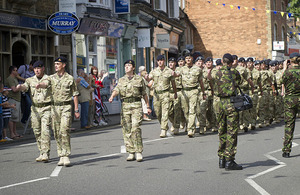 Around 70 soldiers from 11 (Sphinx) Battery, 16th Regiment Royal Artillery, and 104 Military Working Dog Support Unit were greeted by flag-waving crowds during the homecoming parade on Thursday 2 June 2011. Both units are based at St George's Barracks, North Luffenham.
After the parade, the soldiers were awarded their Op HERRICK campaign medals at Oakham Castle by the Lord-Lieutenant of Rutland, Dr Laurence Howard.
During its deployment with 16 Air Assault Brigade, between October 2010 and April 2011, the majority of 11 (Sphinx) Battery was responsible for the operation of the force protection systems at Camp Bastion and Kandahar Airfield.
The battery also deployed members in support of 39th Regiment Royal Artillery and 5th Regiment Royal Artillery to operate intelligence, surveillance, target acquisition and reconnaissance equipment that provides protection to forward operating bases and patrol bases. Information collected is used to protect troops on the ground, spot insurgent activity and build up a picture of the local normal activity in Afghanistan.
104 Military Working Dog Support Unit provided protection and search capabilities, as well as helping to clear routes, buildings and vehicles of explosive devices.
The highly-trained dogs and their handlers carried out tasks that included patrolling the bases where fellow British soldiers are based, searching vehicles at checkpoints, and going out on patrols on the front line to search for weapons, ammunition and explosives.
The march was led by 11 (Sphinx) Battery Commander, Major Shaun Lamb, who said:
It was outstanding, absolutely wonderful. It was a great welcome home - all the soldiers were thrilled by the reception. I want to pass on my thanks to the people of Oakham on behalf of all the soldiers on parade.
Published 6 June 2011