News story
Nuisance calls: funding available for innovative solutions
Businesses and other organisations can apply for a share of £1.5 million to develop new solutions to the problem of nuisance phone calls.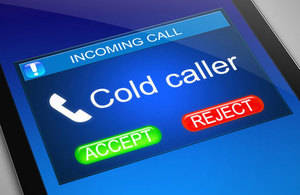 Innovate UK and the Department for Culture, Media & Sport are running a competition to find new ways of solving the problem of nuisance calls.
A nuisance call is an unwanted call. It can mean different things to different people, such as:
a live or pre-recorded sales or marketing call
a silent or abandoned call
any call that is malicious, obscene or harassing
Tackling nuisance calls is a priority for government. A 2013 YouGov survey found that:
3.2 million people felt afraid to answer the phone because of unsolicited marketing calls
39.6 million people feel we need more protection from telemarketers
This competition also aims to find ways of helping more vulnerable members of society. These may be people who are at highest risk of financial harm and personal distress.
The competition is outcomes based, rather than technology specific. It can include, but is not limited to:
home-installed equipment that filters and blocks calls
the use of a central database to block calls from known problem sources
a network-level solution that will filter and block calls before they reach the end user
Innovate UK will run this competition through SBRI, the Small Business Research Initiative. We will offer businesses with the most promising solution a government contract to develop their product or service.
Competition information
this competition is open now
the registration deadline is noon on 4 November 2015
any organisation can apply although the competition is particularly suited to SMEs
we expect the contract value to be up to £50,000
consortia may apply but one organisation must act as the lead applicant
Published 30 September 2015