Nuclear situation at Fukushima nuclear plant
The Government's Chief Scientific Officer Professor John Beddington comments on the developments following the explosion at Fukushima nuclear plant.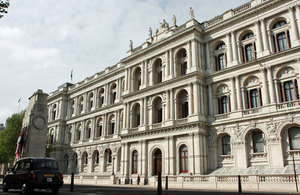 Following the explosion at Fukushima nuclear plant, the Japanese government has advised all people between 20 and 30kms of the plant to stay inside and keep windows closed. The 20km exclusion zone remains in place. The UK Government advises all British citizens to follow this guidance.
The Chief Scientific Adviser said this morning that the Japanese Government's advice is entirely proportionate and appropriate to the risk.
He stressed that it is wholly wrong to compare the situation to Chernobyl, which emitted a radioactive cloud 30,000 feet into the air for a long period of time. In the reasonable worst case scenario at Fukushima, a plume would only be emitted to a maximum height of 500m, so any radioactive cloud would land very close to the reactor. He said a 20km exclusion zone and a further 10km zone where residents are advised to stay indoors would be entirely appropriate for minimising health effects from direct radiation exposure.
The Foreign Office travel advice for Japan is kept under constant review, and is directly informed by the best scientific advice.
Published 15 March 2011