Nowhere to hide for legal aid dodgers
Convicted criminals who leave taxpayers to foot their legal bills, when they can afford to pay, will no longer get it away with it.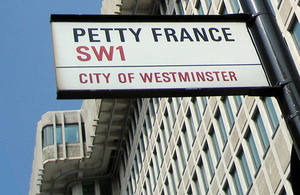 Convicted criminals who leave taxpayers to foot their legal bills, when they can afford to pay, will no longer be able to get it away with, Justice Secretary Chris Grayling announced today.
With £700 million a year spent on Crown Court legal aid, and only about 20% of what should be paid back currently collected, criminals too often leave innocent taxpayers to foot their bills by deliberately cheating the system.
Tough, new enforcement action will be taken against criminals who hide their wealth or who refuse to cooperate with financial assessments. New powers that allow cars to be seized if they refuse to pay will also be implemented.
This gives effect to a strengthened enforcement regime to support the changes made under the Legal Aid, Sentencing and Punishment of Offenders Act 2012. 
 
Justice Secretary Chris Grayling said:
'It is scandalous that each year innocent taxpayers pay more than £20 million towards the defence of criminals who can afford to pay for themselves. This cannot be allowed to continue.
'Legal aid is not free - it is taxpayers' money. That is why I am introducing these tough, new enforcement measures to stop criminals cheating the system.'
Anyone accused of a crime is granted legal aid to pay for their defence. Defendants in Crown Court cases will then be means tested to judge if they can afford to pay for some, or all, of their legal bills. If convicted and judged capable of doing so, criminals are then required to pay.
Currently, too many criminals evade doing so by playing the system - refusing to cooperate with attempts to assess their income or the value of any financial assets they may have or hiding income or assets to appear unable to pay.
Now if a criminal is believed to have assets but is refusing to provide the financial information needed to asses their contribution, they will simply be actively pursued for their entirety of their bill. 
When criminals hide assets or earnings which are uncovered after their legal aid contribution order has been imposed, the power will exist to amend this so they pay more.
New powers will also be introduced to allow vehicles to be clamped and sold if criminals fail to make the ordered payments toward their legal aid costs.
Notes to editors:
The Government's formal response to the Crown Court Means Testing consultation - which was issued in October 2012 - has been published today.
For a defendant facing trial at the Crown Court, provided he/she submits a completed application form they will be granted legal aid. Under the Crown Court Means Testing scheme, a financial assessment of the defendant's means is then used to determine whether or not the defendant should be asked to pay a contribution towards their legal aid defence costs from their income and/or capital assets.
If the defendant is liable to pay a contribution from income, he/she will be issued with an Income Contribution Order comprising 6 monthly payments.
If the defendant is convicted at the end of the trial, they may be liable to pay any outstanding defence costs from their capital assets through a Capital Contribution Order. In the event of an acquittal, the defendant will be refunded any income contributions.
Means Testing was introduced in Magistrates Courts in 2006 and was extended to Crown Courts in 2010.
Published 5 March 2013