Press release
Nottinghamshire haulage company fined for drivers' hours offences
Firm fined more than £90,000 after director pleads guilty to 33 road safety offences.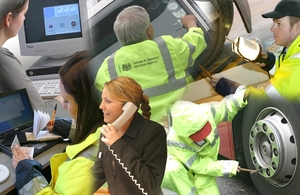 A Nottinghamshire based haulage company was fined £90,662 at Nottingham Magistrates Court yesterday (13 April 2011).
Carl Wright, the Director of Carl Wright Haulage and Plant Ltd, pleaded guilty to 33 offences relating to breaches of drivers' hours rules and failing to keep records.
This followed a 6-week investigation by VOSA which found that the company had been employing drivers on a casual basis to cover night work.
Carl Wright Haulage and Plant were also culpable in failing to take reasonable steps to ensure that casual drivers were within their drivers' hours limits and had taken sufficient rest.
The court also heard that the workshop manager pleaded guilty to falsifying company records relating to maintenance checks.
This was to make it look like the checks had taken place on a 3-weekly basis, when in fact some of the vehicles were out on the road at time the maintenance inspections were allegedly taking place.
On top of the £90,662 fine for the company, a total of 5 drivers, including the garage workshop manager, were also fined £4,313 including costs. Carl Wright, the Director, was personally fined £5,616.
VOSA Operations Director Alex Fiddes said:
Drivers who do not take the required amount of rest run the risk of causing an accident because they are not in a fit state to drive.

These fines show that the courts will deal firmly with those companies who do not take their responsibilities seriously and I hope that this will send a clear message to others.
Notes to editors
VOSA is responsible for:
processing applications for licences to operate lorries and buses and registering bus services
operating and administering testing schemes for all vehicles, including the supervision of the MOT testing scheme
enforcing the law on vehicles to ensure that they comply with legal standards and regulations
enforcing drivers' hours and licensing requirements
supporting Traffic Commissioners to help them make informed decisions on operator licensing, vocational drivers and bus registration requirements
providing training and advice for commercial operators
investigating vehicle accidents, defects and recalls
VOSA media enquiries
You should contact our press office if you have a media query or you're a journalist.
Published 14 April 2011