World news story
Norway a Key Partner in Developing UK Offshore Wind
Norwegian companies lead the way in North Sea wind energy as UK introduces new policy incentives to further support offshore wind projects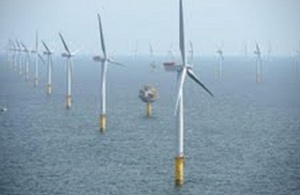 Michael Fallon, UK Minister of State for Energy & Climate Change, spoke about the importance of the British-Norwegian energy partnership in a video message played at a seminar hosted by Statkraft on 22 August (see below).
"I very much welcome the experience and support of Statkraft in delivering the UK wind sector. I can assure you that we are working hard to make sure the relationship we have enjoyed over the years becomes even stronger and closer," said Mr Fallon.
Statkraft together with Statoil developed the Sheringham Shoal wind farm off the coast of Norfolk, which opened in September 2012 and which provides renewable power for 220,000 British homes. The companies are also partners in developing two further UK projects – the Dudgeon and Dogger Bank offshore wind farms.
"The UK already has more offshore wind energy installed than the rest of the world combined, and further opportunities for investors will result from the Electricity Market Reform package that will bring low-carbon energy generation truly into the mainstream," said Mr. Fallon.
The Offshore Wind Industrial Strategy, published earlier this month, sets out the actions that government and business will take to further promote innovation and investment. The strategy identifies actions to: increase market confidence and demand visibility; improve competitiveness of supply chains; support innovation and technology; improve access to affordable project finance; increase skills needed for a robust labour market. A representative from the UK Department for Business, Innovation and Skills will present the strategy at the Norwegian Renewable Energy Partners (INTPOW) Renewable Energy Forum in Oslo on 3 September.
Published 23 August 2013
Last updated 23 August 2013
+ show all updates
3 external links added
First published.