World news story
Northumbria Biomedical Science degree in Sri Lanka
Northumbria University and BMS announced the launch of the Northumbria Biomedical Science degree in Sri Lanka.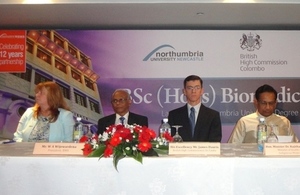 The degree was formally launched by the British High Commissioner to Sri Lanka H E James Dauris and the Minister of Health and Indigenous Medicine, Sri Lanka, Honourable Dr Rajitha Senaratne. This is yet another milestone in a twelve-year long partnership between BMS and Northumbria University.
Based in Newcastle, Northumbria University maintains a reputation as one of Britain's best modern universities. The Northumbria University Business School has been accredited by AACSB, a global accreditation body for Business Schools which puts Northumbria University in an elite group of only 5% of Business Schools worldwide. BMS, a premier higher education institution in Sri Lanka allows students to acquire an internationally recognised qualification while studying in Sri Lanka through its partnerships with credible universities in the UK. BMS President, W A Wijewardena declared that BMS has invested in providing modern facilities including state of art laboratories. All students are guaranteed of high quality learning environment with expert lecturers and researchers in the field.
The British High Commissioner, His Excellency, Mr. James Dauris, in his message said, "I congratulate Northumbria University and BMS for all that they have been doing over the past twelve years to make a UK education more accessible to Sri Lankan students. The launch of Northumbria University's BSc Honours degree in Biomedical Science will help Sri Lanka to train up more professional biomedical scientists, people with the skills necessary to build stronger pharmaceuticals and medical testing industries here in Sri Lanka. The degree will be a welcome addition to the important and varied education links our two countries enjoy and have enjoyed for so long. Innovative partnerships like this one forged between Northumbria University and BMS strengthen the ties between our two countries across a wide range of fields."
The Minister, Dr Rajitha Senaratne said, "The Sri Lankan government is committed to providing the best healthcare service for our people. As an integral part of healthcare policy, we need professional scientists to carry out research in the medical field." The Minister commended the efforts of both institutions for their commitment to developing professional research scientists for the country. He further said both institutions of higher learning have demonstrated that they produce quality graduates who can be instrumental for sustainable economic development.
The first batch of students will commence BSc (Hons) Biomedical Science Degree at BMS which is an internal degree from Northumbria University.
See photos of this event at our Flickr Album