Northumberland health and care leaders sign MOU with India
Northumberland health and care leaders have signed a historic MOU with a leading Indian healthcare provider to share expertise in integrated care.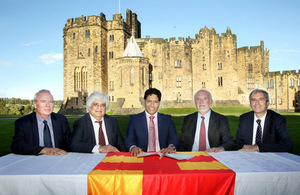 Northumbria Healthcare NHS Foundation Trust and Northumberland County Council (Northumbria) have signed a memorandum of understanding (MOU) with Indo UK Healthcare Pvt Ltd (IUHP) in support of the Indo UK Institute of Health programme.
The agreement between Northumbria and IUHP will see the sharing of NHS expertise as India aspires to achieve the high standards of care which exist in Northumberland. The project aims to help accelerate the development of integrated care outside hospital. It aligns with India's Prime Minister Narendra Modi's vision of delivering affordable healthcare for all.
It is thanks to a long-standing and unique collaboration between Northumberland County Council and Northumbria Healthcare NHS Foundation Trust that the area provides some of the best and most fully integrated care anywhere in the NHS, if not the world. The model creates a seamless experience for patients by integrating:
acute hospitals (including emergency services)
community services
care delivered at home
The service has been rated as 'outstanding' by the Care Quality Commission.
Dr Ajay Rajan Gupta, Managing Director and Group Chief Executive of IUHP said:
This is an important milestone in our vision to transform the health of millions of Indian citizens. Northumbria provides outstanding high-quality integrated health and social care for its residents. This is exactly the experience we need to take forward our own plans.

We want to take the very best that the NHS has to offer across to India and there is no doubt Northumbria is the best at what it does
Daljit Lally, the Deputy Chief Executive of Northumberland County Council, who has a formal joint role with both the council and Northumbria Healthcare NHS Foundation Trust, said:
We are delighted to work with IUHP and to be able to share what we have learned from the strong partnership we have developed between the NHS and social care, over many years, here in Northumberland.

India has one of the largest populations in the world so the pressures on its healthcare system are enormous. Whilst our primary goal is to share how we have developed such a pioneering approach to delivering integrated care in Northumberland, I have no doubt that we will also learn a great deal which will benefit the NHS.
Steve Mason, the Chief Executive of the council, welcomed the partnership:
We look forward to working with the IUIH programme team in support of delivering their vision for a primary care system in India which is designed to care for more people outside of hospital in a fully integrated way.

This partnership will provide a very solid foundation for future international work with India and other parts of the world who can learn from what we have done so well in Northumberland.
Healthcare UK was instrumental in creating the partnership between Northumbria and IUHP. Deborah Kobewka, Managing Director of Healthcare UK also welcomed the signing of the MOU:
The NHS and social care system in Northumberland delivers superb care to hundreds of thousands of people across one of the largest and most rural areas in England.

This makes it a unique fit for this venture with India.

Northumbria has an outstanding record of excellence in fully integrated health and social care across the acute hospital, community, primary and social care settings.

Better yet, they have the confidence, willingness and ability to share their experience, know-how and expertise with India and, in doing so, will be able to reinvest in their frontline services across Northumberland.
Indo UK Institute of Health (IUIH) programme
This programme is one of the world's largest healthcare initiatives currently underway. It aims to transform the provision of quality healthcare and medical education services across India.
The programme will deliver a staged rollout linked to the Indian government's Smart City programme across 100 cities and will involve the setting up of 11 Indo UK Institute of Health Medicities along with 89 Indo UK Clinics across the 100 smart cities.
Northumbria Healthcare and Northumberland County Council will be working alongside a small number of other NHS Foundation Trusts who began working with IUHP in 2015 to support the delivery of hospital services in the first of the 11 states in India.
These IUIH hospitals will be supported by the new model of community care clinics across India. Northumbria's integrated care experience, tools, education and know-how will ensure the quality of care delivered by the IUIH programme is to the same standard as that in Northumberland.
Opportunities in the Indian healthcare market
In India, public spending on healthcare has been traditionally low and an estimated 70% of its population still lives in rural areas with little or no access to hospitals or clinics.
In recent years, however, the demand for quality healthcare is growing and with it, the opportunities for the NHS and investment in Indian healthcare is now booming.
Deborah Kobewka commented:
The NHS has a world class reputation for its standards of care, efficiency and on-going approach to innovation and learning.

Countries wanting to develop their own health services are keen to work with the NHS because they know the quality of advice and systems on offer, and the value for money the NHS represents.

This is a moment of opportunity and we are determined it doesn't pass the NHS by, not least because the gains from overseas partnerships can be reinvested in improving frontline services right here in the UK.
Read about the recent Smart Healthcare mission to India led by Sir Malcolm Grant, Chairman of NHS England.
To find out more about opportunities in India, contact Healthcare UK
Published 18 October 2016