News story
Northern Ireland Terrorism Legislation: Annual Statistics 2010/11
Details of the contents of NIO's statistical bulletin entitled 'Northern Ireland Terrorism Legislation: Annual Statistics 2010/11'.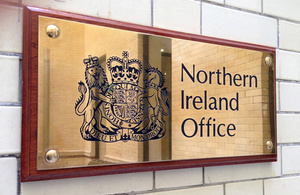 The Northern Ireland Office today released a statistical bulletin entitled 'Northern Ireland Terrorism Legislation: Annual Statistics 2010/11'. The report provides key Northern Ireland specific terrorism legislation statistics for the financial year 2010/11.
The main points reported by the bulletin are that during 2010/11:
there were 120 designated cordons under section 33.
under section 37, Schedule 5, there were 127 premises searched under warrant by the Police Service of Northern Ireland.
there were 195 persons detained under section 41 of the Act, 178 (91%) of whom were held for 48 hours or less, while 17 (9%) were detained for over 48 hours.
there were 18 applications for extensions of detention, all of which were granted.
41 persons were charged with 110 offences including 2 charges of murder, 45 firearms offences and 17 explosives offences.
19 persons were charged with 20 Terrorism Act offences including 8 for possession for terrorist purposes, 6 with collecting information and 3 offences for membership.
no-one was charged during 2010/11 with offences under the new terrorism legislation.
there were 68 requests to have someone informed of detention, 66 of which were granted immediately.
there were 187 requests for access to a solicitor, all of which were granted immediately.
under section 44, there were 9,156 persons and 11,262 vehicles stopped and searched.
under section 80, two persons were convicted of a scheduled offence.
there was 1 requisition order and no de-requisition orders made.
compensation payments (including solicitors' and loss assessors' fees and Agency payments) totalled £100,276.
new powers provided under the Terrorism Act (2006) and Counter Terrorism Act (2008) were largely unutilised during 2010/11, except where on 60 occasions documents were examined during searches and on 41 occasions documents were removed for examination.
The report is available for download from the NIO website. Further information can be obtained from Department of Justice Statistics and Research Branch, Massey House, Stormont Estate, Belfast BT4 3SX; (Telephone 028 9052 7534).
Published 22 November 2011