Press release
Northampton pair ordered to pay over £700 for illegally poaching fish
On 9 March 2015, 2 Northampton men pleaded guilty at Cheltenham Magistrates Court to charges of illegal fish poaching and obstruction offences.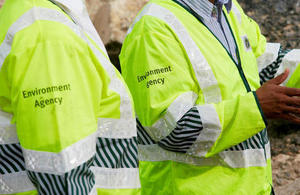 Krzysztof Mozdzen and Grzegorz Wojciechowski were each fined £105, ordered to pay costs of £256.94 with a victim surcharge of £20. Forfeiture of their equipment and fish was also approved by the court.
Environment Agency Fisheries Enforcement Officers were patrolling the River Severn at Deerhurst, Gloucestershire overnight on 12 July 2014 as part of Operation Stone - an operation focussed on the lower River Severn and Avon to drive down the illegal removal of fish. The 2 defendants were seen by Environment Agency officers removing coarse fish from the river and concealing them in a container on the way back to their car. They were subsequently arrested, with both defendants later admitting that they had caught the fish using setlines and rods.
Enforcement Team Leader Al Watson said after the case:
Our aim is to drive down offending, and in the matter of fish poaching, if we can do that through initiatives with the Angling Trust such as the Building Bridges project, that is the best way. However, our fisheries still need protection from those who illegally exploit fish stocks and where we have good evidence, such as in this case, we will take action. The public can help us greatly by reporting illegal fishing activities to our incident hotline 0800 80 70 60.
Published 11 March 2015