News story
North Wales' new prison named
New North Wales prison to receive its name.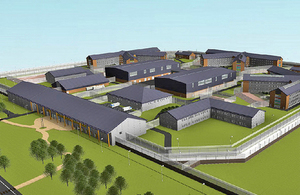 Her Majesty's Prison Service has today announced that the new prison in Wrexham will be named HMP Berwyn.
The Berwyn range is one of two areas of upland moorland in Wrexham and forms the most westerly and remote part of the borough. It is also the highest point in the borough.
The name reflects the rich history and culture heritage of North Wales and was one of six shortlisted names.
The opportunity to name the new North Wales prison received enthused engagement from the Wrexham Youth Parliament, schools, historical groups and members of the public.
Berwyn will provide the opportunity for prisoners from across North Wales to be held closer to home and provide better support for their rehabilitation and reintegration into their community.
Russ Trent, who will be governor when the prison opens, said: "We had a number of suggestions for Mynydd, the Welsh word for mountains. This reflected the Welsh landscape but also the personal and sometimes difficult journey the men in the prison may be making. The sub-committee liked this representation but also wanted it to be reflective of the area and so suggested Berwyn.
"I'm personally delighted with the name because I feel it reflects an important part of Welsh culture, and we will be able to incorporate the name well into the physical environment inside the prison."
Andrew Selous, the Minister for Prisons, Probation and Rehabilitation, said: "It is always important to us to engage with the local communities, and I was pleased to see how many people got involved.
"The North Wales prison will provide a huge boost to the regional economy, generating millions of pounds for the local area. 

It will also play an important part of our wide-ranging rehabilitation reforms allowing offenders to be held closer to their homes in North Wales, to help their eventual reintegration into the community."
Published 17 February 2016