News story
North Sea oil and gas industry investment hailed by Chancellor
£3 billion to be invested in the North Sea and its supply chain.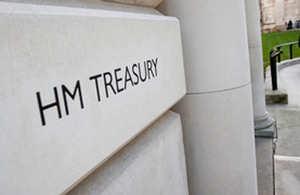 The Chancellor has welcomed news that £3 billion is to be invested in the North Sea and its supply chain, supporting up to 6,000 UK jobs and creating more than 400.
The announcement comes as the UK Oil & Gas Authority has approved the development of the Culzean gas field – the largest new field discovered in the UK North Sea for a decade.
The Maersk Oil operated High Pressure, High Temperature (HPHT) Culzean field was discovered in 2008 and is expected to produce enough gas to meet 5% of total UK demand at peak production in 2020 to 2021.
It will provide significant economic benefits to both the region and the rest of the UK for many years to come.
The project has been supported by the HPHT cluster area allowance introduced by the government as part of the package of measures to support the oil and gas industry earlier this year.
The allowance supports the development of HPHT projects, which are typically more technically challenging and have considerably higher capital costs,- and encourages exploration and appraisal activity in the surrounding area.
The investors in the project, Maersk Oil and its co-venturers, JX Nippon and BP, are committing 50% of the multi-billion pound capital investment to the UK industry and supply chain and they anticipate that over the projected life of the field, a further £2 billion will be spent in the UK domestic market.
Speaking in Aberdeen, the Chancellor of the Exchequer George Osborne said:
Today's announcement sends a clear signal that the North Sea is open for business.

Already the UK's oil and gas industry supports hundreds of thousands of jobs across the country and this £3 billion investment comes on the back of massive government support for the sector.

Despite challenging times, this government has backed the oil and gas industry at every turn, introducing a vital package of support to help it to protect and create jobs.

Despite its claims, the Scottish government would have struggled to deliver such support alone – its own numbers showed that due to the current oil price an independent Scotland would have faced a £20 billion black hole in its public finances over the first three years.
Chief Executive of the Oil & Gas Authority Andy Samuel said:
Maersk Oil and partners' £3 billion investment to develop the Culzean discovery is excellent news for the UK during a period when the decline in global oil prices has created difficult operating conditions for this critical sector of our economy.

The Oil & Gas Authority has worked closely with Maersk Oil and HM Treasury on the development plans for the Culzean field, which will support many new contracts in the oil and gas supply chain across the UK.
CEO of Maersk Oil Jakob Thomasen said:
Culzean is an important development for the UK and also for Maersk Oil and our co-venturers.

We are pleased the field will support UK economic growth as well as extend understanding of HPHT development.

Culzean is the latest in a series of large investments by Maersk Oil in the North Sea where we are active in Denmark, Norway and the UK – reflecting our commitment to the future of the North Sea region
Published 31 August 2015