Press release
North East to get £3.2 million to create new rural jobs and businesses
Northumberland and Durham is one of five regions to benefit from a Rural Growth Network.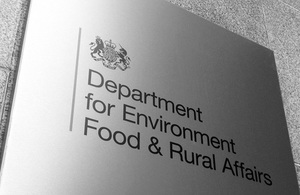 A £3.2 million project which is expected to create up to 300 new jobs and support hundreds of businesses in Northumberland and Durham was announced by Farming Minister, Jim Paice on his Rural Roadshow to the North East today.
Northumberland and Durham is one of five regions to benefit from a Rural Growth Network, set up to help rural areas overcome the barriers to economic growth such as a shortage of business premises and poor broadband access.
Mr Paice has announced the Rural Growth Network on his Rural Roadshow to the North East today. All Defra ministers are going on a series of Rural Roadshows to hear first-hand, from communities and businesses, about rural issues, and discover what help is needed to support rural growth and jobs. The direct access to ministers will help ensure that rural England has a strong voice at the heart of Government.
Mr Paice is visiting the Auction Mart in Middleton-in-Teesdale, where parts of the farmers market will be transformed into six new business premises that will provide business support services including training in IT, social media and book-keeping. Entrepreneurs will have new work space to start up their companies and jobs will be created as local businesses get the support they need to grow.
This is just one of the Rural Growth Network's 'enterprise hubs' planned for rural areas across the North East, all of which will deliver business support, networking opportunities, dedicated mentoring and new, high quality workspace.
To date, a total of 61 new work premises are planned for Northumberland and Durham.
Farming Minister Jim Paice said:
"Farms and rural businesses are too often held back by problems like insufficient local business premises and few training opportunities.  The Rural Growth Network will take down these barriers to growth, allowing farmers and local entrepreneurs to turn their ambitions into reality.  I'm looking forward to meeting some of them today to celebrate this great news for businesses in the North East."
The Rural Growth Network is part of the £165 million programme of measures the Government is delivering to grow business and create new job prospects in rural areas.
Farming Minister Jim Paice continued:
"The Rural Roadshow is a great opportunity to meet some of the farmers and businesses in rural Northumberland and Durham, to discuss the challenges they face and take them back to Westminster."
As well as local farmers, councils and local enterprise partnerships, on his Rural Roadshow, Mr Paice will have his first meetings with the region's two Rural and Farming Networks. Defra has established seventeen Rural and Farming Networks across the country to give community and business leaders the chance to shape rural policy by sharing advice and insights through a hotline to Government.
Mr Antony Braithwaite, chair of the North East Farming and Rural Advisory Network, said:
"We are looking forward to seeing him.  It is appreciated when ministers take the trouble to come out of London and visit the countryside.  We will tell him, from the sharp end, of our local rural problems, our solutions and other opportunities which we think Government can help with. We want the Rural Growth Network scheme which he is announcing to be only the start."
Lorna Jackson, chair of the Food Farming and Rural Affairs Network, Tees Valley said:
"The Food, Farming and Rural Affairs network in The Tees Valley are delighted to be meeting Jim Paice. It is of great importance to the Tees Valley that we are one of seventeen networks across the country talking straight to Defra about barriers and opportunities that can shape the Tees Valley of the future."
Paul Woolston, chairman of the North East Local Enterprise Partnership (LEP), said:
"We welcome the visit of Jim Paice to the region, which gives him the opportunity not only to see the varied, productive and spectacular countryside across the North East LEP area but also to meet many of the businesspeople who work from rural settings. The more we strengthen the infrastructure, access, connectivity and skills training outside our cities, the better our high quality rural enterprises will be equipped with the resources to compete nationally and globally."
As part of his Rural Roadshow, Mr Paice will meet young farmers who benefitted from the Farmers of the Future course, delivered by local charity Upper Teesdale Agricultural Support Services.
Defra's £147,000 investment in Farmers of the Future gave young people farm based skills, including dry stone walling, tractor driving and crop spraying as well as practical hands on experience through on-farm placements.
Mr Paice will complete his Rural Roadshow with a visit to Chatterley Farm in Wolsingham, to see how farmer John Allen has been able to take up new business opportunities with support from Defra.  Mr Allen will demonstrate how he is able to steer his cattle much more safely thanks to a new cattle crush and use a more accurate weighing system which will help him get the best price for his livestock.
His £3,200 grant to invest in this modern equipment is from Defra's £100 million Rural Development Programme for England, which has transformed the prospects of thousands of businesses across rural England.
Notes
The enterprise hub that Jim Paice is visiting today is just one of the enterprise hubs planned for Durham, Northumberland and rural Gateshead.
Managed workspace will be developed to serve communities in the south Tyne Valley and Tyne Corridor.  They will be deigned to allow adaptability in the use of space to respond to local needs and also offer flexible occupancy terms to make it easy for new start up ventures.
This flexibility in the size and number of work spaces and in licences will also be key to the new work spaces planned for small businesses in Wooler, North Northumberland.  Further premises will be reserved to give residents, who are currently commuting to Newcastle and other urban areas, the opportunity to work remotely, closer to home.
Nine new work premises will be created in the North Tyne valley within Northumberland National Park, in partnership with three rural estates.
Ten new work premises will be created out of two large office units at Cawledge Business Park in Alnwick which have remained vacant following their construction prior to the recession. This will provide much needed smaller office accommodation for start up and existing small business that require a high quality environment with flexible occupancy terms, with adjacent opportunities to expand and 'move-on'  in situ.
In rural Gateshead, support will be offered to help new businesses to take advantage of eight  recently  created units from underused buildings on the National Trust's Gibside estate. Here, small business advice and grant support through the RDPE Micro Enterprise grant scheme will be aimed at cultural and tourism businesses that can draw more visitors into this popular site in the Derwent Valley.
In total, the Rural Growth Network expects to create over 60 new work spaces for the North East.
All of these enterprise hubs will be networked with one another, acting as centres to facilitate knowledge transfer, provide mentoring, training and skills development to enable businesses to grow and capitalise on new opportunities.
Five areas have been chosen to deliver Rural Growth Networks: Wiltshire, Cumbria, Somerset and Devon, Northumberland and Durham, and Coventry and Warwickshire.
For more information on the Rural Development Programme for England, visit here.
Upper Teesdale Agricultural Support Service has 1679 current members, the largest membership registered charity in the Durham Dales.
Published 22 August 2012