Press release
North East measles outbreak update
Experts at the North East Public Health England (PHE) Centre are continuing to work closely with NHS and local authority colleagues in response to the on-going measles outbreak in the North East, first reported in January.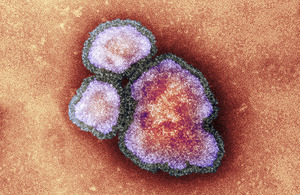 Latest figures released today show that since the beginning of September 2012, when the numbers started increasing in the North East, 210 confirmed cases and 196 suspected cases of the illness have now been reported. This is an increase of 10 confirmed and 20 suspected cases on the previous week.
The majority of cases continue to be reported in unvaccinated school children and young adults with 40% of all cases aged between 10 and 19 years. Initially cases were being reported in the County Durham and Darlington areas but the majority of cases are now being seen in the Tees area. Seventeen per cent of the cases in this outbreak needed hospital treatment.
Nationally PHE has seen an increase in numbers of measles across England and Wales. In 2012 there were 2,016 laboratory confirmed cases of measles (provisional data), the highest annual total since 1994.
Julia Waller, immunisation lead for the North East PHE Centre said: "Measles is highly infectious. Children and adults who haven't been vaccinated or had the infection before are at risk when measles is circulating, as it is in this region.
"There is no treatment for measles but it can be prevented by the MMR vaccine and two doses are required to ensure the best protection.
"If anyone is unsure about their immunisation status they should check with their GP. If you've missed out on MMR in the past it's always possible to catch-up as the vaccine can be given at any age."
Measles is potentially a very serious illness which can on rare occasions be fatal. It is highly infectious and is spread through direct contact with an infected person or through the air when an infected person coughs or sneezes.
The viral illness begins with a fever, cough, runny nose and red, watery eyes. This is followed with a rash that starts on the face and upper neck a few days later, and then spreads down the upper body, extending to the arms, hands, legs and feet.
Julia added: "We have alerted GPs, out of hours services and hospitals to ask them to notify us of any cases they come across and since the middle of February we have been issuing weekly updates to our NHS colleagues.
"In partnership with the NHS in the North East, a poster has been produced to raise awareness of the outbreak and to inform those with symptoms of measles of the actions they need to take. These have been sent to GP practices, walk-in centres, hospitals, schools, leisure centres and youth centres across the region.
"We are also urging parents to ensure their children are fully vaccinated and have written to parents with children in schools where there have been individual cases of measles. And from the beginning of March, all schools in Teesside have sent letters to parents alerting them to the increase in measles cases and asking them to check their children's immunisation status."
To prevent spreading the illness, PHE advises people with symptoms of measles to:
stay away from school, nursery or work until at least four full days have elapsed after the development of a rash
telephone your GP surgery or NHS walk-in centre to inform them you or your child has a rash illness before attending, so that arrangements can be made in advance for minimising contact with other vulnerable patients
avoid going to A&E unless you are seriously ill, and if you do attend, telephone ahead to let them know you or your child may have measles
avoid contact with pregnant women, people with weak immune systems and babies who are too young to be vaccinated, as they are more vulnerable to infection
Julia continued: "It's incredibly important to remember that measles isn't a harmless childhood disease and that's why we're urging people to check they are fully immunised and had both doses of the MMR vaccine.
"Measles should not be taken lightly and you can never tell who will go on to develop the more serious complications of pneumonia and encephalitis (inflammation of the brain).
"If anyone has missed out on MMR in the past it's always possible to catch-up as the vaccine can be given at any age. Just contact your local GP."
Anyone who is concerned should contact their GP, NHS Direct (0845 46 47) or call 111 in the first instance as normal.
Notes for editors
1. Number of confirmed measles cases reported in the North East
| | | | | | |
| --- | --- | --- | --- | --- | --- |
| North East | September 2012 to date | 2013 to date | 2012 | 2011 | 2010 |
| Cases reported | 210* | 174* | 41 | 18 | 11 |
(* Provisional data)
2. Latest national figures
Latest national figures for measles during 2012 by region
Nationally PHE is seeing increasing reports of measles. During 2012 there were 2,016 laboratory confirmed cases of measles (provisional data), the highest annual total since 1994. Cases have been reported across all regions with the highest numbers seen in the North West.
3. Number of confirmed measles cases reported since September 2012 by local authority area
| | |
| --- | --- |
| County Durham | 18 |
| Darlington | 29 |
| Gateshead | 1 |
| Northumberland | 1 |
| Middlesbrough | 74 |
| Stockton | 75 |
| Redcar and Cleveland | 6 |
| Hartlepool | 4 |
| Sunderland | 2 |
| North Tyneside | 0 |
| Newcastle | 0 |
| South Tyneside | 0 |
| Total | 210 |
4. Immunisation data broken down by former PCT
Immunisation data broken down by former PCT
5. More information about measles
6. Previous press releases about this measles outbreak
Previous regional releases about this measles outbreak can be found on the Health Protection Agency website. The HPA become part of Public Health England on 1 April 2013).
Issued by Emma Thody on 0844 225 3550 / 07789 271110 emma.thody@phe.gov.uk
For out of hours media enquiries contact Karen Lloyd on 07834 311395.
Published 8 April 2013